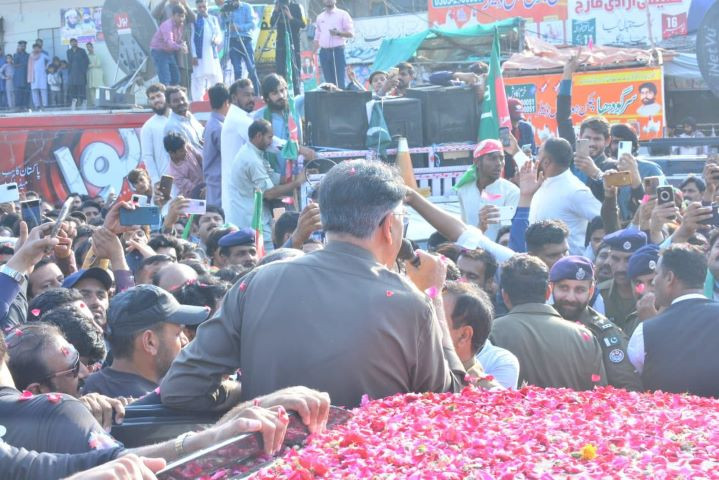 Pakistan Tehreek-e-Insaaf (PTI) leader and former information minister Fawad Chaudhry on Wednesday said that the tentative date for the party's long march entering Rawalpindi may be announced in the next 72 hours.
Addressing a press conference with fellow PTI leaders, Shireen Mazari and Zulfi Bukhari, Fawad said "the tentative date for when hundreds of thousands of people will head towards Rawalpindi" is likely to be announced within the upcoming few days.
Read SC order 'unknowingly' violated: Imran submits reply in contempt case
Keeping his hopes high, he said "by the grace of God, this gathering will be the biggest political rally in history".
Meanwhile, PTI's "Haqeeqi Azadi March" is set to rally in Jhelum, Sargodha, Mardan and Timergara today (Wednesday).
حقیقی آزادی مارچ کا سفر آج بھی جاری رہے گا انشأللہ-
March venues for today:
• جہلم
• سرگودھا
• مردان
• تیمر گرہ – لوئر دیر
— PTI (@PTIofficial) November 15, 2022
Shortly earlier, the party's Secretary General Asad Umar was welcomed by crowds in Kot Momin.
Secretary General PTI @Asad_Umar welcomed in Kot Momin! #WeTrustImranKhan pic.twitter.com/irIlsH8A3C
— PTI (@PTIofficial) November 16, 2022
A massive rally was also held at Bajaur where Chief Minister Mahmood Khan and former federal minister Murad Saeed were to address the gathering.
حقیقی آزادی مارچ – باجوڑ میں عوامی سمندر نکل آیا۔ وزیراعلیٰ محمود خان ، سابق وفاقی وزیر مراد سعید کا خطاب ۔ #WeTrustImranKhan pic.twitter.com/NJUmFGmtTj
— PTI (@PTIofficial) November 16, 2022
According to sources, PTI chief Imran Khan is expected to arrive in the garrison city from Lahore on November 19 or 20.
Arrangements in place
The arrangements for his accommodation in Rawalpindi have been entrusted to a committee comprising MNAs Amir Mehmood Kiyani, Asad Umar and Ghulam Sarwar Khan.
A new 'bomb-proof highly secure special container' has been prepared for the former premier which will be delivered to the garrison city at midnight between Thursday and Friday.
The PTI chairman has also been proposed to stay in Punjab House in Rawalpindi, however, the proposal has not been approved yet.
Read More 'No foul play': PTI denies businessman's claims about receiving Toshakhana gifts
According to the security plan, police commandos will be deployed on the roofs of the plazas and markets on both sides of Murree Road while no one will be allowed to stand or pass within 30 feet distance of the PTI chief's container.
Hundreds of washrooms have also been built near Shamsabad for participants of the long march.
The Murree Road from Mureer Chowk to Faizabad will be closed for general traffic on the arrival of the participants of the long march in Rawalpindi, while the alternative traffic route on Rawal Road, Islamabad Expressway will remain open for the traffic.
A heavy contingent of police and rangers will be deployed on the metro bus track. Law enforcement agencies have assumed duties in the most sensitive areas of the cantonment.
A control room has been set up to monitor the march's participants while a separate special control room has been set up in the garrison area as well.
Cellular and internet services will be suspended on the arrival of long march participants in the garrison city while metro bus service will also be stopped.
It has also been decided to carry out aerial and drone surveillance of the participants. Emergency has been imposed in all hospitals in the city and cantonment area while all petrol pumps on the route of the long march will be completely closed.
Also Read Lahore CCPO to lead JIT on Imran attack
According to highly reliable sources, there is also a possibility of major arrests and detentions on Thursday, Friday and Saturday.
All public and private schools across the city will be closed from Friday while wholesale vegetable, fruit and grain markets are being closed. It has also been decided to close the big commercial centre.
The commissioner, deputy commissioner, RPO and CPO visited the office of the sensitive organisation this week and gave a detailed briefing about the arrival of the long march to the garrison city besides receiving necessary instructions.
The Rawalpindi police have been instructed to be on alert to deal with any kind of situation. The police have also been provided with a large quantity of tear gas shells and rubber bullets.


Source link