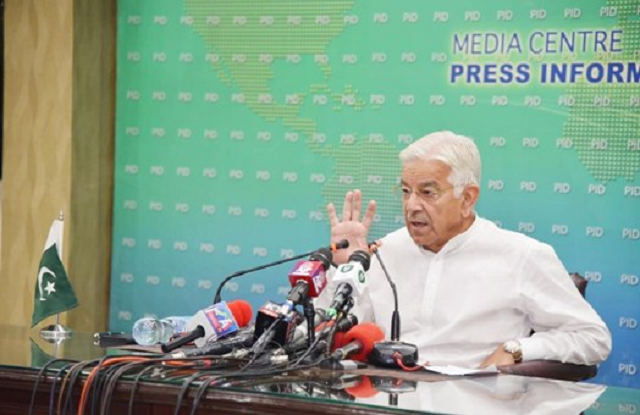 A day after PTI chairman Imran Khan made controversial remarks against the top military leadership of the country, Defence Minister Khawaja Asif said that a "long legal battle" would be initiated against the former prime minister very soon.
"Some actions have already been taken while some are going to take place soon. Our legal experts are examining it and they will act accordingly," he said while addressing a press conference in Islamabad on Monday.
وفاقی وزیر دفاع خواجہ آصف اسلام آباد میں اہم پریس کانفرنس کر رہے ہیں https://t.co/qnXMgAAoBd
— PML(N) (@pmln_org) September 5, 2022
The defence minister said the legal action against the former premier would be based on "cooked up cases" for political victimisation he had launched during his last tenure and added that the legal proceedings would not depict political vendetta or score settling on political grounds.
He also lashed out at the former premier for passing controversial remarks related to the appointment of new army chief, accusing him of attacking the country's economy and defence institutions under the 'inimical designs' of the enemies of Pakistan.
The minister said after independence our perpetual enemy India attempted to weaken Pakistan by targeting our economy and armed forces.
"Yesterday in Faisalabad, Imran Khan made comments on COAS (Chief of Army Staff) appointment. In the past few months Imran Khan clearly targeted these two areas," he remarked.
Asif said the PTI chairman during his tenure in October past year made the sensitive matter of appointments in armed forces a topic of public discussion.
Also read: Army 'aghast' at Imran's 'defamatory' allegations on COAS appointment
"We passed the no-confidence motion after his allies decided to leave him [Imran Khan]. But after that he started targeting forces and called them names like 'neutrals' and 'animals'," he said.
He emphasised that the pattern of past four months showed that he was targeting Pakistan's economy and defence.
"Yesterday, Khan alleged that the senior generals next in line to be the COAS are going to provide illicit protection to the misappropriations of the Pakistan Democratic Movement (PDM) leadership."
He underscored that it was not the job of the armed forces rather they had sworn in to defend the masses and the motherland.
"There's no commitment in their oath to defend the politicians if they do so then they will violate their own oath. Imran Khan is on record for saying that they cannot be neutral and he demanded protection from them."
The minister lambasted Imran for his accusations and said that it was not the PDM leadership rather he himself would need security for his corruption in prohibited funding, Tosha Khana and other cases.
"The armed forces will never do that and they will only defend the honour and security of the motherland for which they spill their blood. Imran Khan's accusations are a disrespect of the sacrifices of the armed forces," he maintained.
The defence minister underscored that the armed forces of Pakistan had a long tradition of sacrifices where officers and soldiers both embraced martyrdom in the war against terrorism.
Recently, he said three-star general, two star general and other officials embraced martyrdom in the Labella helicopter crash while serving the nation in crisis, adding, "Our history has a great number of sacrifices. Our armed forces are playing lead role in disaster relief efforts."
After becoming the nuclear power, the priority of India was to destroy Pakistan economically and PTI and its leadership are becoming their tool for that cause, he alleged.
Also read: Nawaz, Zardari want new army chief of their choice: Imran
"The process of COAS appointment is due after three months but Imran Khan is already making it controversial and his statements are testament of enmity with the country aiming to tarnish the defence institution for political whims."
He mentioned that the politicians should resolve their conflicts in the political arena, however the relationship of certain institutions was linked to the national security which should not be damaged by making controversial statements.
He reiterated that the media and public must avoid making COAS appointment a public discourse topic as it was the prime minister's prerogative.
(With input from APP)


Source link