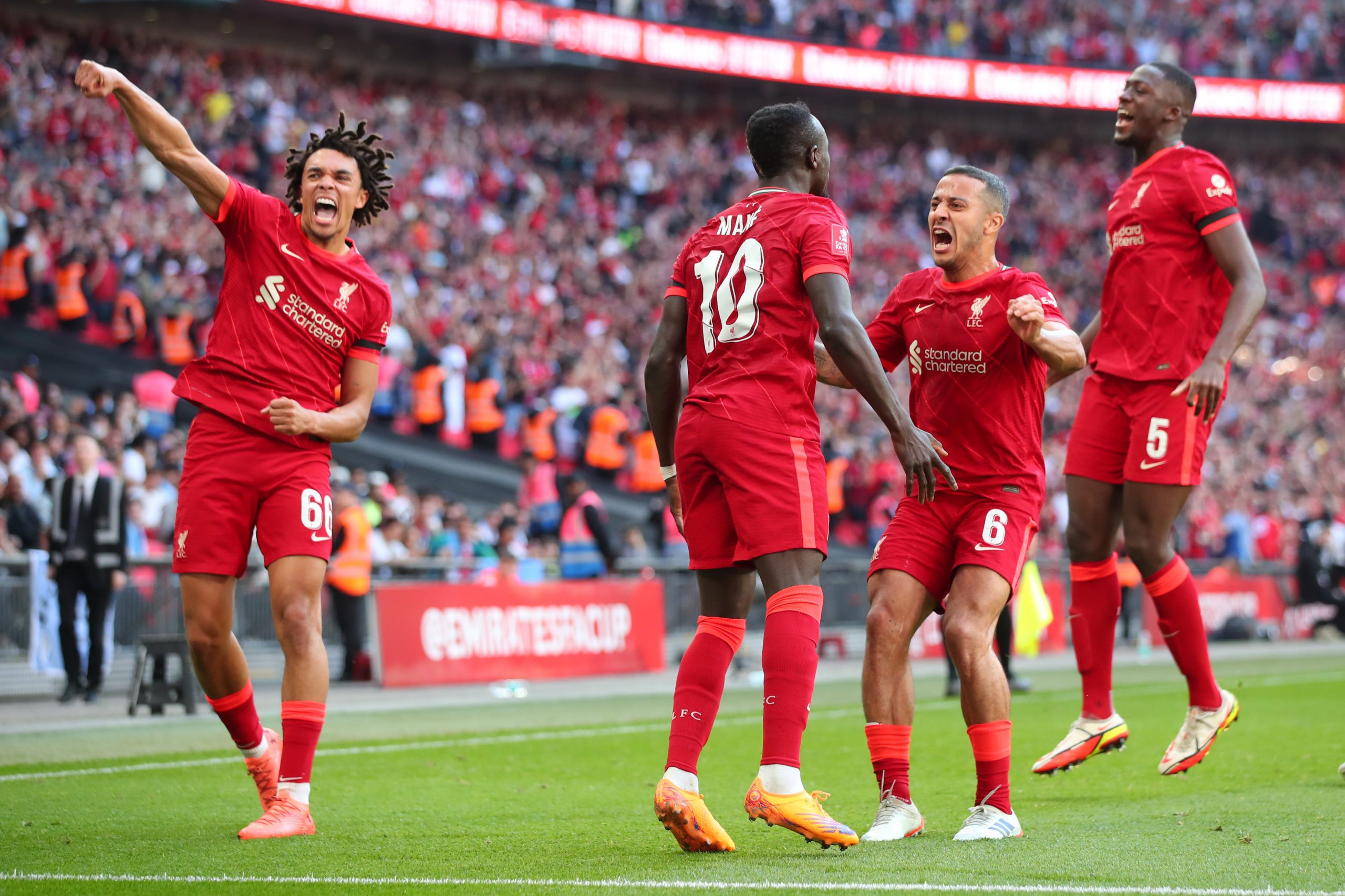 Sadio Mane vowed Liverpool will fight to win the quadruple after his brace sealed a 3-2 victory against Manchester City in the FA Cup semi-finals on Saturday.
Liverpool are bidding to become the first English club to lift all four major trophies in a single season.
Jurgen Klopp's side have already won the League Cup and now they are through to a first FA Cup final appearance since 2012 thanks to Mane's goals at Wembley.
Ibrahima Konte headed Liverpool in front before Mane punished a mistake from City keeper Zack Steffen.
The Senegal forward netted again before half-time and second half strikes from Jack Grealish and Bernardo Silva weren't enough for City.
With Liverpool, just one point behind Premier League leaders City with seven games left and facing a Champions League semi-final against Villarreal, Mane knows they could be on the verge of football immortality.
"We'll see. We will try to do our best. It's a dream for sure and we'll fight for it," Mane told BBC Sport.
The Senegal forward admitted it was a big boost to beat title rivals City, who are also in the Champions League semi-finals, given their intense rivalry with Pep Guardiola's men.
"It's special. It's a big win to win a semi-final and we are very happy to qualify for the final," Mane said.
"We started very well, we pressed them high and the goalkeeper made the mistake. I was very happy to score two goals but the performance of the team was fantastic.
"Every Liverpool player enjoyed it because we did the right thing at the right time."
Klopp hails 'best ever' display
Jurgen Klopp hailed one of Liverpool's "best ever" performances as they reached the FA Cup final with a "special" win against Manchester City.
"Absolutely proud, incredible. The first half was one of the best we ever played. We did all the right stuff, we scored in the right moments. We were outstanding. I loved each second of it," Klopp said.
"The second half started with the goal for Man City and then it opens up. The quality of City is insane.
"We respect City so much and it's so difficult to win against them. But because we have these boys in our dressing room we have a chance."
Asked if their FA Cup semi-final success could be the springboard to pip City in both the Premier League and Champions League, Klopp said: "It's not a statement, we are just in the final.
"I think City knew beforehand that it could be difficult against us, that's how it has been between us most of the time."
Klopp, however, insisted the fixture congestion caused by their progress to another final will make the quadruple harder to achieve.
"The quadruple talk I can't believe it. Qualifying for this final makes the quadruple even more difficult," he said.
"I don't think we have a full free week before the last matchday. But we beat the strongest team in the world and that's a pretty special moment."
There is no rest for Liverpool in their trophy chase as they host Manchester United on Tuesday.
"In three days we play against United, who are fighting for a Champions League place. Historically it is not a friendly game," he said.
"Then we play Everton, with the situation they are in it will not be a friendly game. It (the quadruple) is just incredibly unlikely but let's go for it."
Pep Guardiola's decision to field a weakened team will be second-guessed, but City's manager is adamant he was right to leave Kevin De Bruyne on the bench after the Belgian needed stitches in a foot injury.
With City's treble bid over, Guardiola has to revive his fatigued players quickly if they are to hold off Liverpool in the Premier League and beat Real Madrid in the Champions League semi-finals.
"I have a lot of confidence in my players and the selection. We had a terrible time in terms of fixtures and travel. That's why we need the fresh legs," he said.


Source link