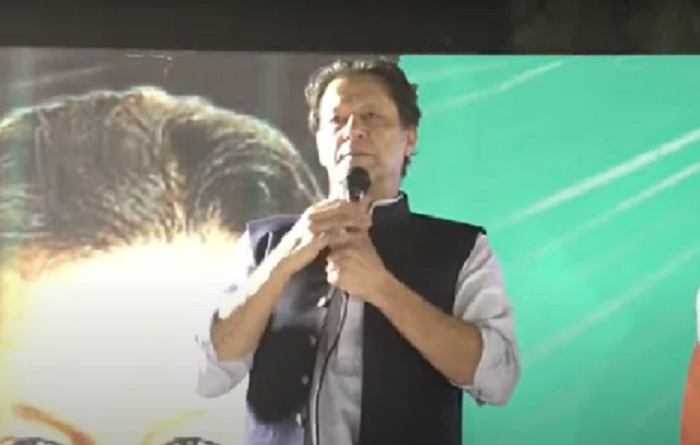 Former prime minister and PTI Chairman Imran Khan is addressing his party's power show in Punjab's Rahim Yar Khan district, in which he is expected to launch countrywide movement to force the coalition government to announce the early elections.
https://www.facebook.com/ImranKhanOfficial/videos/1082916649058779/
At the start of his address Imran thanked the supporters for turning up in large numbers and waiting for his speech. "They [PM Shehbaz and his delegation] are staying at expensive hotels to show-off to those from whom he [PM Shehbaz] is asking donations," he remarked.
PM Shehbaz was imposed upon the country not because he had any leadership qualities but because he would take dictation from all powers including IMF, he added.
The PTI chief said the country has no future if such corrupt leaders, including PM Shehbaz and his son, who were set to be indicted in money laundering case, continued to rule it.
Imran said they had given themselves an NRO and closed down corruption cases worth Rs1,100 billion. "Foreign powers imposed corrupt leaders so that they can be controlled easily."
"If we accept the theft of Rs11,000 billion and slavery of these 'imported rulers' then we have no future." Taking a jibe at PM Shehbaz for seeking donations from international community for flood victims, Imran said the country would have to compromise on national interest by receiving foreign aid as "there is no free lunch".
He said incumbent rulers were trying to disqualify him as they are scared of the people's power. "Four people have made a decision behind closed doors to have me assassinated… they are still working on this plan," he claimed.
As part of the assassination plot, Imran said PML-N leaders Javed Latif and Maryam Nawaz distorted his remarks during a press conference to provoke the people to attack him and would later term it an attack by "religious fanatics".
Earlier, the PTI chief had arrived at the venue amid loud cheer from the huge crowd.
Imran, the deposed premier, on Wednesday announced that the final phase of his party's movement for "Haqeeqi Azaadi" – 'real freedom' – would begin from September 24.
Final Countdown begins۔۔۔ #کپتان_ہم_تیار_ہیں pic.twitter.com/5RyStjjmDQ
— Dr Arslan Khalid (@arslankhalid_m) September 24, 2022
ملک بھر میں امپورٹڈ حکومت اور بدترین مہنگائی کے خلاف عوام سڑکوں پر نکل آئی۔ #RahimYarKhanJalsa #کپتان_ہم_تیار_ہیں pic.twitter.com/fpFRflLGQc
— PTI (@PTIofficial) September 24, 2022
PTI leaders in major cities including Karachi, Islamabad, Lahore, Multan, Peshawar and others have set-up screens in their respective areas to show his live speech.
Since being ousted from power in April this year, Imran has been holding rallies across the country, demanding early and transparent polls.
A day earlier, he said that "thieves" have taken over the country and were now getting relief in corruption cases under "NRO-II".
Addressing the women's convention in Islamabad on Friday, the former prime minister said that he was not doing politics but waging 'jihad' to achieve 'real freedom' for the country's better future.
Referring to the amendments to the NAB law, Imran said societies are destroyed without the rule of law. "Thieves have taken over the country. Every day their cases are being shut," he remarked.
Imran further said that the poor should be released from jails if the powerful cannot be brought under the law. "What is the fault of the poor? The likes of Zardaris and Sharifs are sitting everywhere in poor countries where there is no rule of law," he added.
This will be updated…


Source link