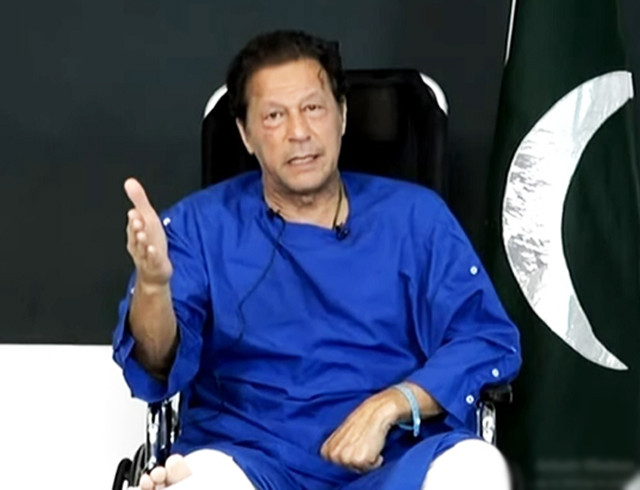 Pakistan Tehreek-e-Insaf (PTI) Chairman Imran Khan is addressing the nation for the first time after he narrowly escaped an assassination attempt during the party's long march in Punjab's Wazirabad yesterday.
"Establishment was taken aback when they saw that the people this time [in April] did not support their decision to topple my government," said Imran while addressing the nation from Shaukat Khanum Hospital in Lahore on Friday.
Imran said establishment is not aware of the ground realities. "Despite knowing that the people are not ready to accept this imported government, they [establishment] are bent on enforcing their decision."
The PTI chief had sustained a bullet wound to his leg after an armed attack on his container, as he led the PTI's 'Haqeeqi Azadi March' in Wazirabad on Thursday.
The PTI chief said his workers and supporters were tortured and intimidated during the party's last long march because establishment had anticipated that the party will "vanish" though such tactics.
"Four people made a decision behind closed door to kill me and I had told the nation beforehand. That's why I had recorded a video naming all four [conspirators]."
Dr Faisal Sultan, during the presser, briefed the media as to where Imran Khan got shot.
ڈاکٹر فیصل سلطان بتارہے ہیں کہ عمران خان کو کہاں کہاں گولیاں لگی ہیں !! pic.twitter.com/IEoqC6mHfl
— Saqib Virk (@SaqibVirkPK) November 4, 2022
Earlier, PTI leader Fawad Chaudhry said that a meeting of the party's senior leadership took place at the Shaukat Khanum Hospital under the leadership of Imran Khan, in which the doctors informed them about the details regarding the operation of the PTI chief.
In a tweet, Fawad maintained that the number of "attackers is more than one".
"A while ago the meeting of [the] senior leadership of PTI ended, in the meeting, the doctors informed about the details regarding the operation of Imran Khan, according to the initial details, the number of attackers is more than one. The meeting strongly condemned the murderous attack on Imran Khan," he said.
اب سے کچھ دیر قبل تحریک انصاف کی سینئر لیڈر شپ کا اجلاس ختم ہوا، اجلاس میں ڈاکٹرز نے عمران خان کے آپریشن سے متعلق تفصیلات سے آگاہ کیا، ابتدائ تفصیلات کے مطابق حملہ آوروں کی تعداد ایک سے زیادہ ہے۔ اجلاس نے عمران خان پر قاتلانہ حملے کی شدید مذمت کی،
— Ch Fawad Hussain (@fawadchaudhry) November 4, 2022
As per the party's call made earlier today, supporters of the PTI took to the streets in different parts of the country post-Friday prayers against the assassination bid against party chief and former premier Imran Khan.
More to follow…


Source link