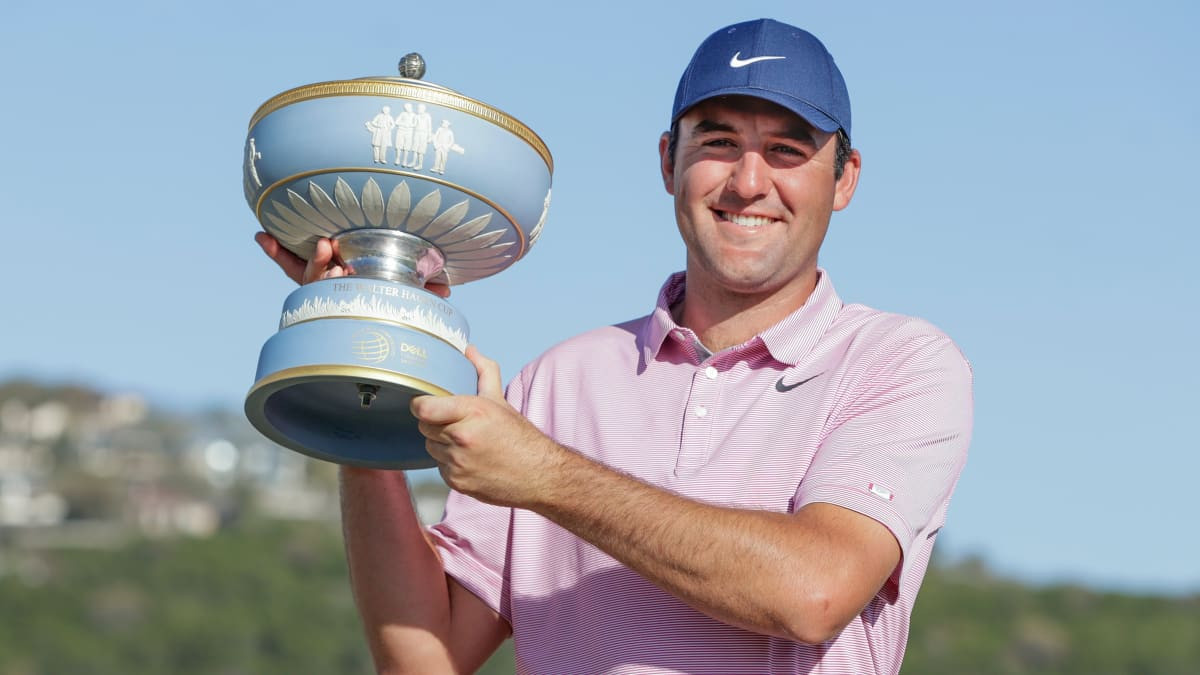 Reigning British Open champion Cameron Smith and two-time major winner Dustin Johnson were among LIV Golf players receiving a warm welcome from PGA rivals at Monday's first practice for the 87th Masters.
Fears of a tense showdown at the practice facility or in pairings at Augusta National did not happen for Smith, Johnson or Mexico's Abraham Ancer despite the bitter divide between Saudi-backed upstart LIV and the PGA.
"Lots of laughs, lots of handshakes and it was really nice," Smith said of his one-hour workout. "I really wasn't sure what I was going to expect walking onto the range, but it was good to see some familiar faces and lot of smiles."
Australian Smith said the reception was important for the sport.
"There's too much rubbish going on… I don't think there's any kind of hatred going on between the players. We're all happy where we are and I'm just as happy for the guys winning on the PGA Tour as I am for LIV golfers."
Johnson, the 2016 US Open and 2020 Masters winner who took LIV's 2022 individual crown, went around with US countrymen Kevin Kisner, Brian Harman and Gary Woodland.
"It's nice to see a lot of the guys because I haven't seen them all that much," Johnson said. "For me it's the same. All my buddies are still my buddies and we play and it's still golf. So it doesn't matter where you play at."
Harman isn't one for LIV-PGA grudges, saying, "I've got too much to worry about. I just stay in my lane."
Johnson said his preparation hasn't been compromised playing 54-hole LIV events.
"I'm going to be ready no matter how many events I played," Johnson said. "I played a long time with all these guys. If I'm playing how I should, I'll be right there at the end."
Ancer, who won February's 72-hole Saudi Invitational, was happy too.
"It has been great," he said. "Everybody has been really nice. I'm not a high drama guy. I get along with everybody. It's just golf. We're all good friends."
LIV's Bryson DeChambeau, the 2020 US Open champion, said he was hugged by top-ranked defending champion Scottie Scheffler and the reception from players was "unbelievable."
"The fans were awesome," he added. "They were saying the same stuff they would say if I was on the other side."
American Kevin Na defended LIV and the spicy rivalry.
"It doesn't matter what tour you play. There are a lot of champion golfers on LIV, still in their prime and still peaking," Na said.
"Fans and the media are making it more interesting. If you have a LIV versus PGA Tour coming down the stretch, it'll be fun."
Scheffler could become only the fourth player to win the Masters in back-to-back years, joining US compatriots Tiger Woods, Jack Nicklaus and England's Nick Faldo.
Second-ranked Rory McIlroy, a four-time major winner from Northern Ireland, would complete a career Grand Slam with a victory, joining Woods, Nicklaus, Gary Player, Gene Sarazen and Ben Hogan as a champion at all four majors.
McIlroy and Spain's third-ranked Jon Rahm, who has won three PGA Tour titles this year, could each overtake Scheffler atop the rankings with a victory at Augusta National.
Tiger Woods, the 15-time major winner still struggling with severe leg injuries suffered in a 2021 car crash, played a practice round with McIlroy, Fred Couples and South Korean Tom Kim.
"I think he'll be fine," Couples said of Woods. "He's hitting it really strong and solid and he looks good.
"The leg, I don't know how much better it's ever going to get… But he's strong enough to hit it a mile."
An Augusta National layout soaked by rain in the past week is expected to get drenched by thunderstorms on Thursday and more rain Friday through Sunday.