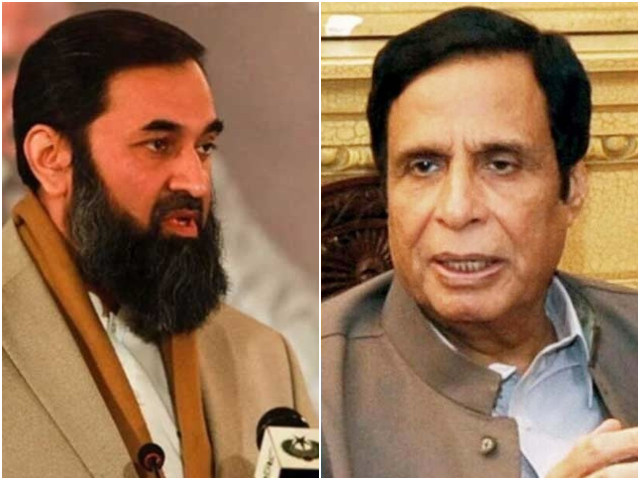 [ad_1]
The Lahore High Court (LHC) is shortly to resume the hearing of Punjab Chief Minister Pervaiz Elahi's petition against his de-notification by Governor Balighur Rehman for not taking a vote of confidence under Article 130 (7) of the Constitution.
The Pakistan Tehreek-e-Insaf (PTI), which is in power in the province, had sought to dissolve the provincial assembly in order to force the federal government to call early elections while the ruling Pakistan Muslim League-Nawaz (PML-N) countered the move through Punjab Governor Balighur Rehman.
Read One for the history books : Punjab Assembly's turbulence rumbles on
The governor had de-notified CM Pervaiz Elahi in the wee hours of December 23, 2022, for failing to take a vote of confidence from the provincial assembly on December 21, on his order.
A notification issued by the Governor House after midnight said that CM Elahi ceased to hold office immediately while the provincial cabinet stood dissolved. However, it added that Elahi would continue under Article 133 of the Constitution until a new chief minister was elected by the provincial assembly.
However, the CM maintained that he would not seek a vote of confidence from the Punjab Assembly on Governor Balighur Rehman's order, terming his directions in this regard as illegal.
Meanwhile, the LHC in its December 28 order, while reinstating the PML-Q leader, had bound the CM through an undertaking not to dissolve the provincial assembly until the next hearing scheduled for January 11.
After hearing the arguments of the Punjab government and others, the LHC had suspended the notification following Elahi's undertaking that he would not dissolve the assembly before the next hearing.
In another twist to the high drama in Punjab's power echelon, last week, the speaker brought forward the provincial assembly session by two days – from Jan 11 to Jan 9, causing political circles to spin up a whirlwind of wild speculation about whether Chief Minister Pervaiz Elahi was getting ready to take a vote of confidence.
Read More Coalition partners join heads to reclaim Punjab
The Punjab Assembly yesterday witnessed a ruckus as lawmakers from both sides of the aisle engaged in a verbal slugfest over the vote of confidence to be taken from Elahi.
According to Express News, a five-member full bench of the high court under the chairmanship of Abidi Aziz Sheikh is hearing the case. The bench was constituted by LHC Chief Justice Ameer Bhatti.
Barrister Ali Zafar on behalf of Pervaiz Elahi, Nasr Ahmed on behalf of the federal government and Khalid Ishaq on behalf of Governor Punjab will present their arguments.
In compliance with the parliamentary party on Tuesday, PML-N leaders including Rana Mashhood and Khalil Tahir Sandhu have begun to gather at the court premises.

[ad_2]
Source link