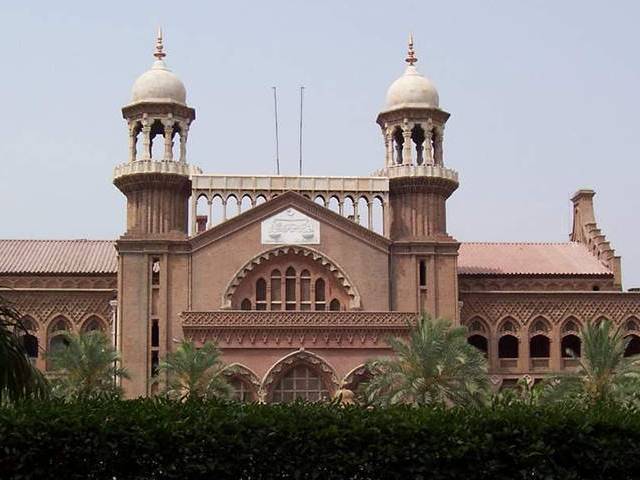 [ad_1]
The Lahore High Court (LHC) on Monday suspended the arrest warrants issued by the Election Commission of Pakistan (ECP) for Pakistan Tehreek-e-Insaf (PTI) Chairman Imran Khan, Secretary General Asad Umar and Senior Vice-President Fawad Chaudhry for skipping contempt proceedings.
The election watchdog had last week issued bailable arrest warrants for the PTI leaders for failing to appear before the commission in contempt proceedings.
The applications seeking exemption from attendance were rejected by the ECP, while all three parties were ordered to submit bonds worth Rs50,000 each. However, the PTI had moved the court against the arrest warrants.
Justice Sadaqat Ali Khan heard the case on Monday in LHC's Rawalpindi bench.
Advocate Faisal Chaudhry appeared before the court on behalf of Imran Khan and Fawad Chaudhry.
During the hearing, the PTI lawyer contended that the ECP was in no position to issue arrest warrants since it was not a constitutional court. While assuring the court, he told the court that his clients have been appearing before the ECP during its proceedings and will continue to do so.
Subsequently, the court suspended the arrest warrants for Imran and Fawad Chaudhry in the ECP contempt case.
However, the judge allowed the ECP to continue its contempt proceedings against the PTI leaders.
"PTI seeks relief from the judiciary but targets them in the media," the court remarked during the hearing.
It said that targeting the judiciary in the media came under contempt of court and warned that if Fawad Chaudhry went on to target the courts in the media again, contempt of court proceedings will be launched.
Justice Khan told the PTI leader's lawyer that the court was granting him relief this time but his client should refrain from pinning the blame on the courts.
"Enough is enough, the court will no longer show restraint," remarked Justice Khan.
It may be mentioned here that last week, PTI leader Fawad Chaudhry, immediately after the ECP's decision, announced he would challenge the warrants in the high court and file a contempt plea against ECP.
"ECP's decision to issue arrest warrants in contempt of the high court's decision," said Fawad. He said that the case was scheduled for January 17 and the verdict was announced today (January 16) in violation of the rules.
The PTI leader alleged that it was a "biased" decision of the ECP.
The electoral watchdog had summoned the PTI chief and the other two senior party leaders in continuation of contempt proceedings against them.
The ECP had initiated contempt proceedings against Imran as well as his party leaders Asad Umar and Fawad Chaudhry for constantly issuing statements against the electoral body and its chief election commissioner.
The PTI had moved the Supreme Court against the ECP, arguing that Article 204 only empowered the higher judiciary with contempt of court and that the commission was not a court.
However, in December last year, the apex court had permitted the ECP to continue the contempt proceedings against the former premier and his fellow party leaders.

[ad_2]
Source link