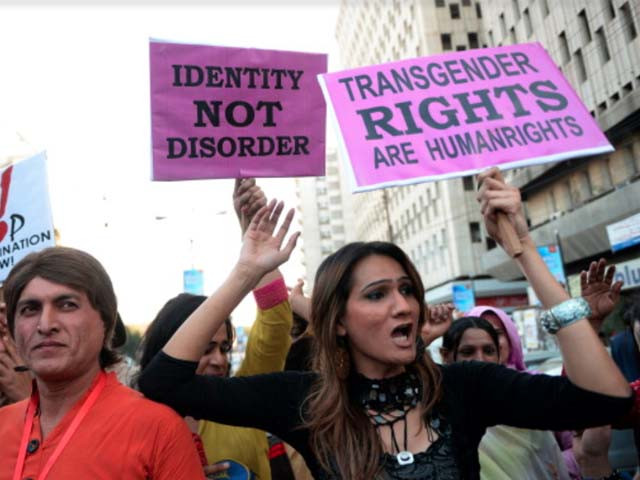 The Lahore High Court (LHC) on Tuesday sought replies from concerned quarters on a writ petition filed against a movie titled Dum Mastam, scheduled to be released on Eid, on the grounds that the film will "violate the rights" of the transgender community due to the use of the word "khusra".
Khusra is a derogatory term widely used in the country to refer to the members of the community.
The petition was filed through barrister Muhammad Ahmad Pansota requesting the court that a direction be passed to all such programmes which use the derogatory word and "make fun of the same". He upheld that such sentiments should be banned from mainstream media as no one should have the authority to ridicule the Khawajah sirah community.
The petitioner seeks the support of the LHC in a matter of critical importance pertaining to the rights of citizens and the protection of rights guaranteed under Article 4, 9 and 14 of the Constitution of the Islamic Republic of Pakistan 1973.
The petitioner's aim is to highlight the indifference, lassitude and inaction of the respondents towards those citizens who are marginalised and ridiculed in society, and have subsequently, been subjected to mockery in a recent trailer of a movie.
Read Call for equal status for transgender persons
In accordance with the law, the mockery of a community should have been condemned by the respondents who are bound by relevant provisions to take action against impugned conduct. In this regard, the petitioner seeks direction from the high court to enforce the articles of the Constitution and direct the respondents to take strict action against the perpetrators who have violated human rights.
While transgender people across the world face discrimination and are marginalised in society, the level of marginalisation varies. Transgender people in Pakistan were not protected under the law until March 7, 2018, when the Senate of Pakistan passed 'The Transgender Persons (Protection of Rights) Act, 2018'. The bill is a response to years of marginalisation and abuse targeting the community.
The law removes the stipulation of presenting transgender people in front of a medical board to determine their sex and affords them the right to have their National Identity Cards (NIC), passports, and driving licenses affirm their gender.
In addition to receiving correct citizenship documents, the law also safeguards the community from discrimination by strictly prohibiting harassment and marginalisation in companies and organisations (Senate, 2018). While such provisions reflect a positive amendment introduced by the State, it is still early to determine the efficacy of the bill in safeguarding the rights of transgender people.
The petition filed in the LHC states that the respondents; the federation, ministry of human rights and human rights and minorities affairs are bound under the Constitution to secure the rights of all citizens of Pakistan. It adds that the relevant authorities have the responsibility to ensure rights for especially those communities that have their quality of life directly impacted. Such communities have the intrinsic, fundamental, constitutionally guaranteed right to life and dignity, free from all forms of mockery.


Source link