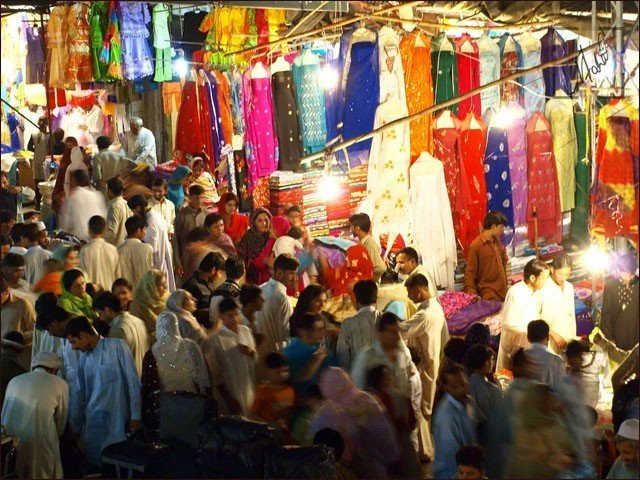 [ad_1]
Lahore High Court's (LHC) Justice Shahid Karim on Friday ordered Rs2,00,000 fine on markets that remain open after 10pm.
Justice Karim was presiding over a hearing of multiple petitions on how smog can be controlled, society made pollution-free and groundwater protected from wastage. The Secretary-General of Lahore Supermarket Muhammad Imran Saleem appeared before the court.
He told the LHC that all shopkeepers are on "the same page to close down the shops on the given deadline". To this, Justice Karim remarked that he was glad to hear that and maintained that "we have to change our lifestyle".
During the hearing, Justice Karim also stated that the matter of one-dish violation in marriages is also being pondered over.
Read Break from smog as rains likely to lash parts of country
In his argument, the environmental commission's member told the court that 153 incidents of stubble burning were reported in the last five days.
Justice Karim remarked that the majority of stubble-burning cases are being reported in Okara.
DC Okara informed the court that criminal cases were registered against 151 people who were found involved in setting ablaze the remnants of the crops.
Subsequently, the LHC judge directed the CCPO Lahore, the deputy commissioner and other concerned quarters to ensure the implementation of the court's orders.
Market closure at 10pm
In December 2022, Justice Karim had ordered to close down the restaurants and markets at 10pm owing to the aggravated situation of the smog. He had, however, allowed restaurants to be open till 11pm on weekends.
Stubble-burning
The court had imposed a fine of Rs 2,00,000 against those involved in stubble-burning cases across Punjab, increasing it from the already fixed fine of Rs 50,000.
The LHC had remarked that registration of first information reports (FIRs) "is not the only solution" to stopping stubble burning.
Schools closure
In December 2022, all public and private schools were ordered to be closed down in district Lahore every Friday and Saturday in addition to the weekly holiday on Sunday.
The order was to remain in force from December 7 to January 15. Later, the winter holidays were also extended in the province.
Brick kilns
Out of 8,119 brick kilns in the province, around 7,000 have been converted to zigzag technology. Hundreds of FIRs were registered against violators of smoke emitting and against those operating without the said technology.
The FIRs were also registered against fuel stations selling substandard fuel and setting ablaze to stubble.
Moreover, to reduce the risk of pollution, the use of polythene bags has been banned in Punjab and directions have been given to concerned quarters to use the ablution water for the plants.

[ad_2]
Source link