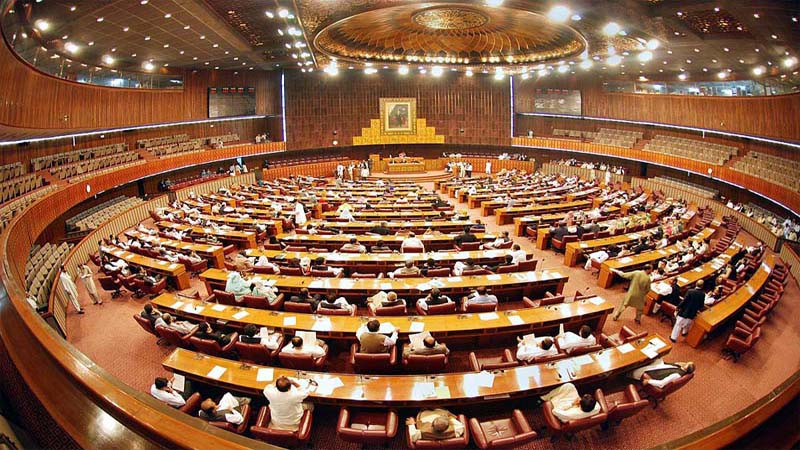 Treasury members of the National Assembly admitted on Tuesday they had paid a heavy price politically by removing the previous Pakistan Tehreek-e-Insaf (PTI) government through a no-confidence motion, but stressed that it was necessary to save the country.
Taking part in the budget debate in the lower house of parliament, chaired by Speaker Raja Pervez Ashraf, federal minister Javed Latif, and Salahuddin of the Muttahida Qaumi Movement-Pakistan (MQM-P) criticised the wrong policies of the previous government.
At the onset of the session, opposition lawmaker Riaz Pirzada said on a point of order that the session started one hour later than its scheduled time of 4 O'clock. The speaker agreed to Pirzada's suggestion that the session must be started on time.
PTI's Noor Alam Khan said that the opposition would not point out if the quorum was short but stressed that the finance minister must attend the budget debate. However, the speaker said that parliamentary affairs minister would be present if the finance minister was absent.
Taking part in the debate, Maulana Abdul Akbar Chitrali of the Jamaat-e-Islami (JI) said that nothing was done in the budget to eliminate interest. "The whole economy of the country is being run on the interest-based system," he said, adding that the budget is against Quran and Sunnah. He also said that no allocation had been made for mosques and madrassas.
Read: Democracy will be destroyed if 'govt of crooks' stays in power: Imran
MQM-P member Salahuddin said that former rulers were stubborn and inefficient. In 2018, he added, the then PML-N government had left a circular debt of Rs12 billion, which the PTI government took to Rs22 billion.
"The new Pakistan turned out to be worse than the old Pakistan. The whole world saw how the rupee lost its value," he said, adding that the coalition government got rid of the PTI through a no-confidence motion.
"The no-confidence motion was the most-difficult decision but if this decision had not been taken then the country would have suffered. There was a huge political cost of dismissing the government, which would be paid either by the PML-N or the MQM."
Javed Latif of the PML-N said that the reason for India's insolence was the economic weakness of Pakistan. "I want to tell the powerful countries that if the Muslim countries become weak, then jihad would become obligatory. A blasphemer would be beheaded," he said.
He also referred to reports that former military ruler Pervez Musharraf will not be "disowned by his institution". He stressed that the government wanted to move forward and did not want any revenge, but why asking for the return of those who violated the Constitution.
"Mohtarma Fatima Jinnah was labelled a traitor, Zulfikar Ali Bhutto was hanged, Nawaz Sharif was called a hijacker, Mohtarma Benazir Bhutto was shot dead. They sacrificed everything for the country," he said.
He also spoke about the corruption allegations against Farah Bibi, a close family friend of former prime minister Imran Khan and his wife, Bushra Bibi. He added that if the corruption investigations reached Imran Khan, then they would allege political victimisation.


Source link