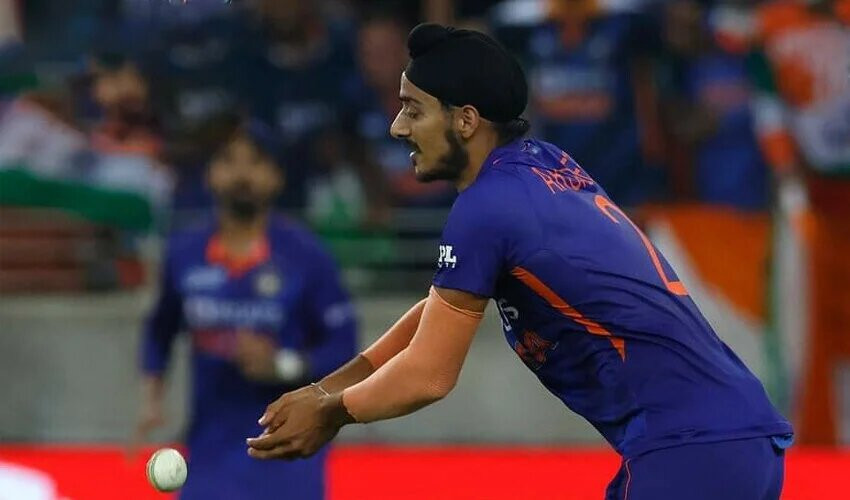 The Pakistan-India high-octane clash ended with Babar Azam and co beating the Rohit Sharma-led side by five wickets on Sunday.
The match went through a number of ups and downs. India started on top, then Pakistan spinners stole the show, Virat Kohli found his form with a fifty, Pakistan experimented with Muhammad Nawaz in the top order which paid off and a lot of drama at the end was all that the match had promised.
The Asia Cup opener for both teams was won by India and the Indian fans were hoping for yet another victory, only to see their team lose to Pakistan in the final over.
However, one moment which could be considered as game-changing was when Indian left-arm pacer Arshdeep Singh dropped a sitter and gave Pakistani batter Asif Ali a new life.
Asif went on to hit a six in the same over and followed it up with a four in the next to bring Pakistan's asking rate down. This helped ease the nerves of Khushdil Shah and Iftikhar Ahmed, when they were asked to score two runs from two balls.
Twitter was full with Pakistani cricket fans thanking Arshdeep for his unwanted contribution in their win, but some Indian fans didn't like it at all and used the term 'Khalistani' to describe the Indian pacer.
Arshdeep is clearly a part of the Pakistan-backed Khalistan movement. #INDvPAK https://t.co/VOvIJ4TTz9

— W. S. Khan (@WajSKhan) September 4, 2022
Pakistani kabhi bhi apne players ko match hartay howay blame ni lagatay per Indians Aaaj Ik Sikh ko khalistani keh ker pukar rhy hen #PAKvIND #arshdeepsingh #AsiaCup2022 #INDvsPAK2022 #INDvPAK pic.twitter.com/F16FNqxI85

— Shahbaz Ahmad (@Shahbaz487) September 5, 2022
Pakistan defeated India in a cricket match. So-called nationalists have gone after a Sikh cricketer, blaming him for the defeat and calling him Khalistani. #IndiaVsPakistan

— Ashok Swain (@ashoswai) September 4, 2022
However, many former and current cricketers came to Arshdeep's defense, saying he shouldn't be treated as such for a mistake.
"Anyone can make a mistake. The situation was tight. It was a high-pressure game, and mistakes can happen," Kohli told journalists after the match.
"I still remember, I was playing my first Champions Trophy, and the match was against Pakistan; I had played a very bad shot against Shahid Afridi. I was watching the ceiling till 5am, I was not able to sleep, and I thought my career was over, but these things are natural."
Stop criticising young @arshdeepsinghh No one drop the catch purposely..we are proud of our 🇮🇳 boys .. Pakistan played better.. shame on such people who r putting our own guys down by saying cheap things on this platform bout arsh and team.. Arsh is GOLD🇮🇳

— Harbhajan Turbanator (@harbhajan_singh) September 4, 2022
Arshdeep is a strong character. Stay that way boy. @arshdeepsinghh

— Irfan Pathan (@IrfanPathan) September 4, 2022
Indian singer Sukhbir Singh also defended Arshdeep.
We are 1st & foremost Indian. Hindu,Muslim,Sikh & Christians later. Sikhs are the most patriotic & nationalist community. To label @arshdeepsinghh Khalistani just because of a dropped catch is against the essence of our national psyche&spirit of sports.#IStandWithArshdeepSingh pic.twitter.com/PfJPoZPbkM

— Sukhbir Singh Badal (@officeofssbadal) September 5, 2022
Meanwhile, former Pakistan captain Mohammad Hafeez also requested Indians to forgive Arshdeep's mistake.
https://twitter.com/MHafeez22/status/1566516118919036928


Source link