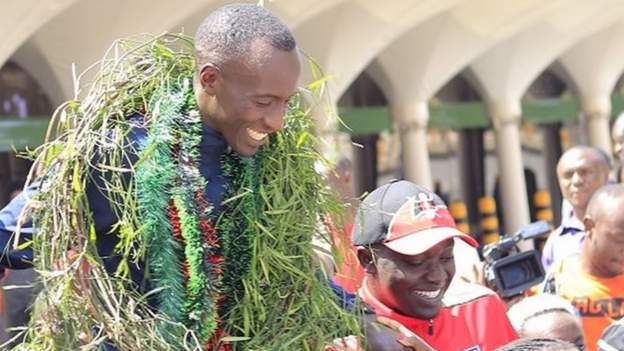 Kelvin Kiptum: From borrowing shoes to breaking world records
When Kelvin Kiptum lined up for his first major local competition in 2018, Kenya's new marathon icon did it in borrowed running shoes because he could not afford a pair of his own.
At this month's Chicago marathon, as he set an awe-inspiring world record of two hours and 35 seconds, times really were changing as he sported the latest in Nike's array of 'super-shoes' – which some say helped him achieve his feat.
As the 23-year-old flies across the world's toughest courses, the story of his rise in marathon running is just as incredible as the strides he takes.
"It has been a long journey for me through my career," the Men's World Athlete of the Year nominee, as proposed by governing body World Athletics, told BBC Sport Africa.
"I have been trying so hard to pursue this dream to run a world record.
"It has come true and I am really happy. My life has now changed."
Kiptum's reception upon his return to Kenya testified to his new-found celebrity status. The hero's welcome began two days of celebrations, moving from the capital, Nairobi, to his home in the south-west of the country.
The London Marathon champion, who at times looked embarrassed by the attention from family, friends, government officials and the media, says he almost cancelled his trip to Chicago, one of the world's leading marathons.
"During the last stages of my training, I was a little bit sick – suffering a groin injury and a little bit of malaria," he explained.
"I was feeling like I was unable to compete because I was out of training for two-three days, but one week before (the race) I had recovered a little bit. I knew I had trained well for about four months."
Coach Gervais Hakizimana – a retired Rwandese runner who had spent months targeting the world record with his athlete – convinced Kiptum not to pull out, telling him to "recover for a few days and get back in training".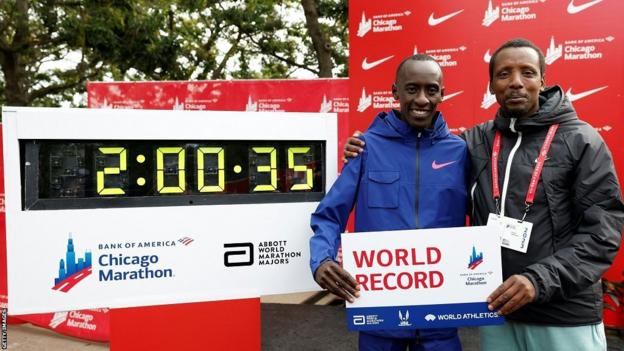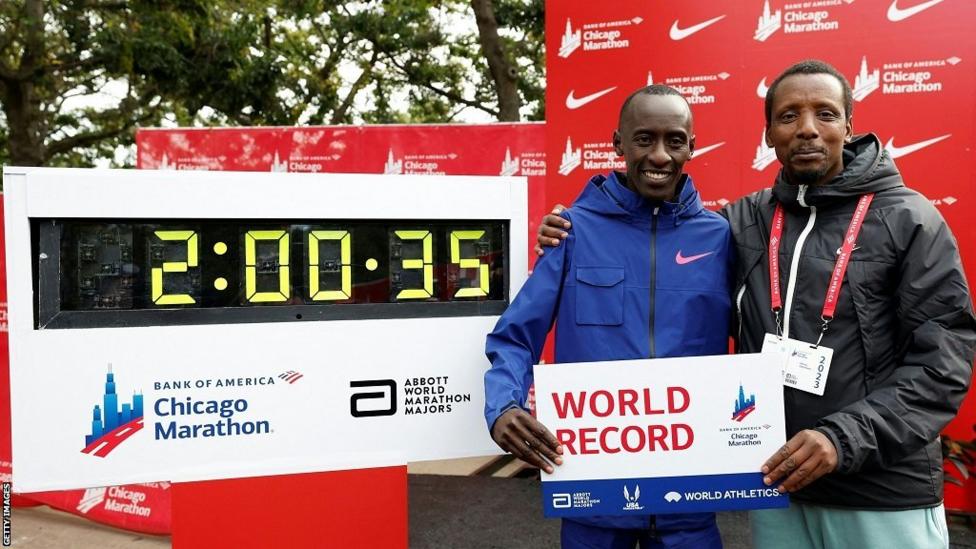 The relationship as coach and athlete began in 2018 but the pair first met when the world record holder was much younger.
"I knew him when he was a little boy, herding livestock barefooted," Hakizimana recalled. "It was in 2009, I was training near his father's farm, he'd come kicking at my heels and I would chase him away.
"Now, I am grateful to him for his achievement."
The road to remarkable runs
Kiptum may have one world record, two of the other six fastest times ever in the distance and three marathon wins out of three, but just a year ago he had never even run a marathon.
The father-of-two is among a new crop of Kenyan athletes who began their careers on the road, breaking away from the past tradition of athletes starting on the track before switching to longer distances.
Kiptum says his unusual choice was simply determined by a lack of resources.
"I had no money to travel to track sessions," he explained.
"My training place is far from a track, so I started training with road-running guys – and that's how I got into marathon."
According to Hakizimana, Kiptum needed time to warm up to the idea of running a marathon, which he initially thought might be too tough.
"He had some fear and preferred the shorter half-marathon until 2022 when he finally agreed to a marathon," says Hakizimana.
A decent half-marathoner, it is nonetheless the longer 42km that has catapulted Kiptum to global recognition thanks to his triumphs in Valencia, London and Chicago, all of which have been achieved since December.
Kenya is home to some of the world's greatest marathon runners, with former world record holder and two-time Olympic champion Eliud Kipchoge most prominent among them, but Kiptum has qualities that make him special, says athletics commentator Martin Keino.
"The level of fearlessness that Kiptum portrays in his race is what is needed to rise to the top," Keino told BBC Sport Africa.
"He is almost holding back in the first half of the marathon and then attacks the second half like nobody ever has – that kind of racing is very rare to see."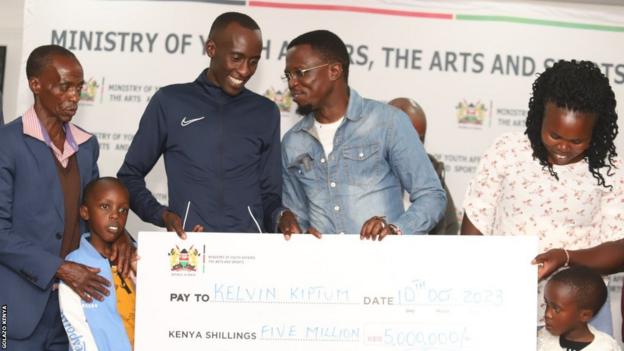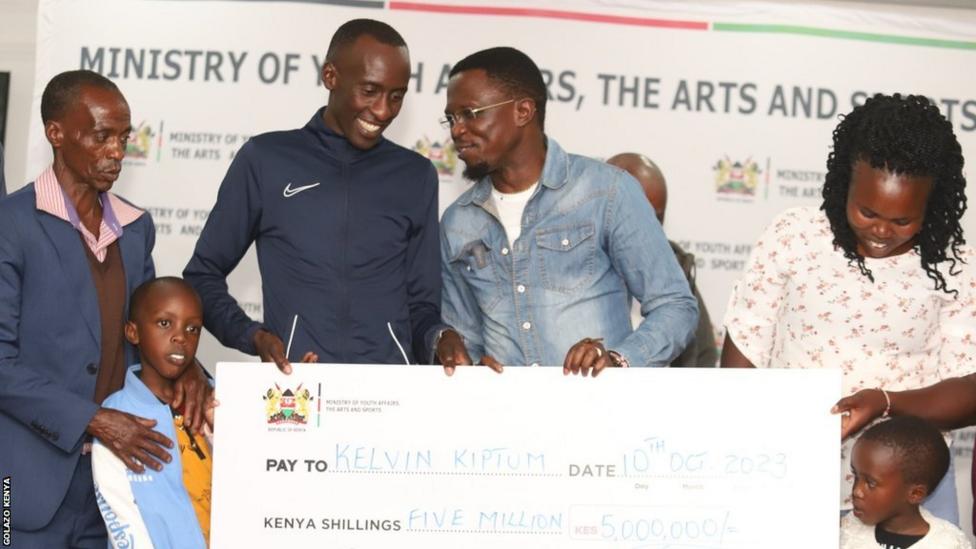 Sparking the dream
As a result of his approach, Kiptum has gone from obscurity to world record holder in just five years, with this stratospheric rise a reward for persisting with his dream even when others did not share his vision.
Kiptum's love for running stemmed from watching his cousin, an athlete who often ran as a pacemaker for Ethiopian great Haile Gebrselassie, but he had to convince those closest to him that he could make it in athletics.
For starters, his father was adamant that he should go to college instead.
"He wanted me to study to pursue my diploma to be an electrician but I was saying that I needed to be an athlete – I had that passion," Kiptum recalled.
"That period was very hard for me because I trained for four years, yet there were no successes and they were disappointed in me. But I kept on pushing."
Eventually his father came around, even occasionally helping him get to early morning training on time.
After Kiptum's record-breaking win, his father effusively praised him as an "obedient son who has stayed true to his upbringing".
Can Kiptum claim a sub two-hour marathon?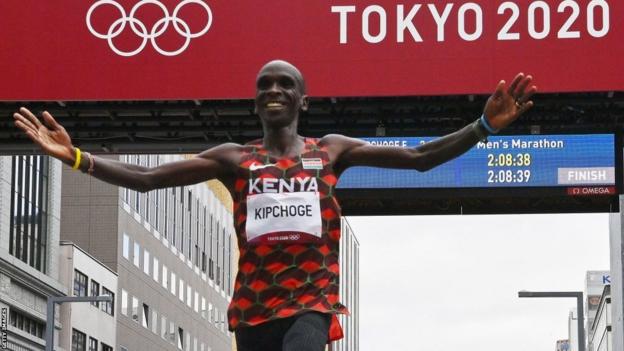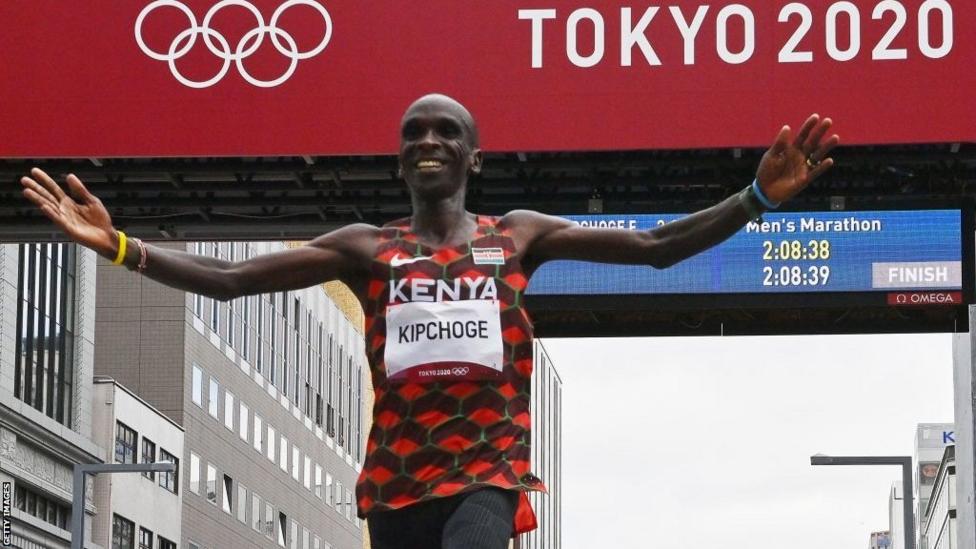 As he races into the future, there is one major concern – namely, that Kiptum's blistering speed will lead to injuries.
"He's training a lot and at this rate, he is in danger of breaking," his coach Hakizimana recently told news agencies.
"I suggested to him that he slow down the pace, but he doesn't want to. So I told him that in five years he'll be done – and that he needs to calm down to last in athletics."
However, Kiptum has other ideas, saying that his world record has motivated him to try to become the first man to break the two-hour barrier in marathon.
In 2019, Kipchoge – widely considered the greatest marathon runner in history – did run under two hours but his record was not recognised because it was not in open competition.
Kiptum draws inspiration from his compatriot and hopes to compete against him one day, with such an opportunity possible at next year's Olympic Games in Paris, if not before.
"Eliud inspires all of us," Kiptum said. "For the young generation, he is our role model.
"If I get a chance to represent my country at the Olympics, it will be my first time – so I'll be focusing on getting a medal. I have an Olympic dream."
He may have inspired the young protégé but now Kipchoge may watch Kiptum take not only his world record but his Olympic title as well.
"As Eliud winds up his career," said Keino, "we are now seeing the future of marathon racing here in Kenya."