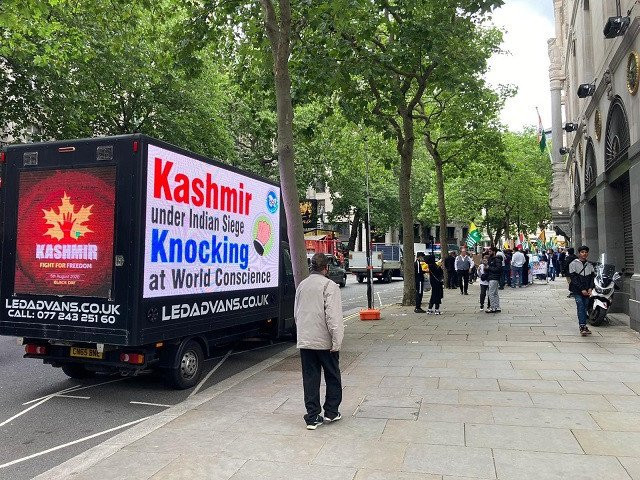 Kashmiris and friends of Kashmir on both sides of the Line of Control (LoC) and all over the world will observe October 27 as black day – the day when Indian occupation forces landed in Srinagar to occupy, subjugate, oppress, and terrorise innocent Kashmiris.
Jammu Kashmir Salvation Movement (JKSM) spokesman Dr Irfan in a press statement said that it is unfortunate that the Kashmir issue is still pending, and despite agreed resolutions of the United Nations, it is not being resolved.
While the occupant India is continuously and deliberately target-killing Kashmiris to punish them for their demand for freedom from illegal Indian occupation, this pattern of brutalities continues with impunity even today, Dr Irfan added.
While lamenting the grave human rights violations by Indian occupation forces in IIOJK, he said that the worst form of state terrorism is being perpetrated against the defenceless people of IIOJK to silence and crush their legitimate struggle, in complete disregard for international human rights and humanitarian laws. "The entire Indian state machinery is involved in these crimes against humanity," he added.
Read more: India axes rule on IIOJK voting rights after political parties' outcry
He said that after the revocation of Article 370 and 35A, the Modi-led BJP government of India started an economic and financial breakdown of IIOK. "The heaven on earth has seen no tourists, businesses are destroyed, educational institutes are closed, students and youth are facing psychological traumas, while houses are being demolished," the spokesperson added.
Since 1989, Indian occupation forces in IIOJK have killed 96,148 people, among them 7,274 are custodial killings, 110,498 structures arsoned/destroyed, 165,400 civilians arrested, 22,950 women widowed, 107,880 children orphaned and 11,256 women gang-raped/molested.
These facts seek the urgent attention of the international community. The denial of the right to self-determination for the last seven decades raises questions about the conscience of the international community and the United Nations, he added.
Dr Irfan said that the leaders of IIOJK, even the oldest, were not given proper medical care, and proper burial as per Islamic rites, it's a shame as India calls herself the biggest democracy in the world.
Moreover, he added, to keep the people of the occupied valley leaderless, the Indian occupant administration has arrested Hurriyat leaders including Massrat Alam Bhat, Yaseen Malik, Shabbir Ahmed Shah, Zaffar Akbar Bhat, Asiya Andrabi, Fehmida Soofi and others by involving them in fake cases.
Pakistan has diplomatically and politically supported the Kashmir cause since the very beginning, and by observing Kashmir black day on the 27th of October each year, Pakistan shows its never-ending support for Kashmir's freedom.
Meanwhile, in a telephonic conversation with Maulana Masroor, Chairman JKSM Altaf Ahmed Bhat has paid his heartfelt condolences on the sad demise of Maulana Abbas Ansari. He also paid tribute to late Maulana Abbas Ansari for his valuable services for the freedom movement of Kashmir.
While supporting APHC's call for shutdown tomorrow, JKSM spokesman said that Kashmiris' commitment to the freedom movement and sacrifices will never go in vain.


Source link