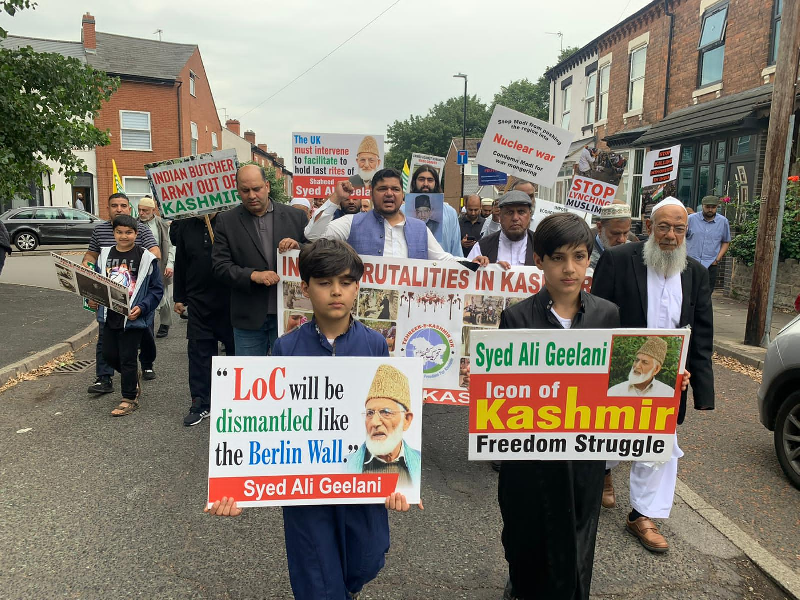 Kashmiris on both sides of the Line of Control (LoC) as well as the world over observed Black Day on Thursday to convey a strong message to the world that they rejected illegal occupation of Jammu and Kashmir by India.
The day is marked every year to express support and solidarity with Kashmiri people in their just struggle for right to self-determination and remind the United Nations of its commitment to the resolution of this dispute.
Call for the observance of the shutdown and Black Day was given by the All Parties Hurriyat Conference (APHC). The day was marked by a complete shutdown in Indian Illegally Occupied Jammu and Kashmir (IIOJ&K).
Protest marches, rallies and seminars were held in Azad Jammu and Kashmir (AJK), Pakistan and all over the world to condemn the invasion of the territory by Indian Army on 27th October, 1947.
The Kashmiri people also expressed their resentment over the revocation of special status of occupied Kashmir by the Narendra Modi-led fascist Indian government on August 5, 2019.
The APHC, in a statement in Srinagar, asked the Kashmiris to demonstrate to the world that they would not rest until Jammu and Kashmir was liberated from Indian slavery.
The Pakistan embassies and high commissions across the world observed the Kashmir Black Day to condemn Indian human rights abuses in IIOJK and reiterated the resolve to keep supporting the oppressed Kashmiri people.
In this connection, Pakistan's diplomatic missions held a variety of events including seminars and photo exhibitions, attended by notables from the respective countries, members of the Pakistani and the Kashmiri communities.
Meanwhile, the Organization of Islamic Cooperation (OIC) reiterated its "full solidarity" with the people of Jammu and Kashmir in their quest for the right to self-determination.
The OIC General Secretariat also urged India to halt and reverse the illegal and unilateral actions taken on August 5, 2019, according to a statement issued by the OIC secretariat in Jeddah.
The Muslim world body called for the reversal of the subsequent Indian steps to change the internationally recognised disputed status of the territory and to alter the demographic structure of the occupied territory.
The OIC reiterated its call on the international community to step up its efforts to resolve the issue of Jammu and Kashmir in accordance with the relevant UN Security Council resolutions.
In Beijing, Chinese Foreign Ministry Spokesperson Mao Ning said that the Kashmir issue should be "properly managed peacefully" in accordance with the UN Charter, relevant Security Council resolutions and bilateral agreement.
"China's position on the issue of Kashmir has been consistent and clear. This is an issue left over by history between India and Pakistan and should be properly managed peacefully," she told her regular briefing at International Press Centre.


Source link