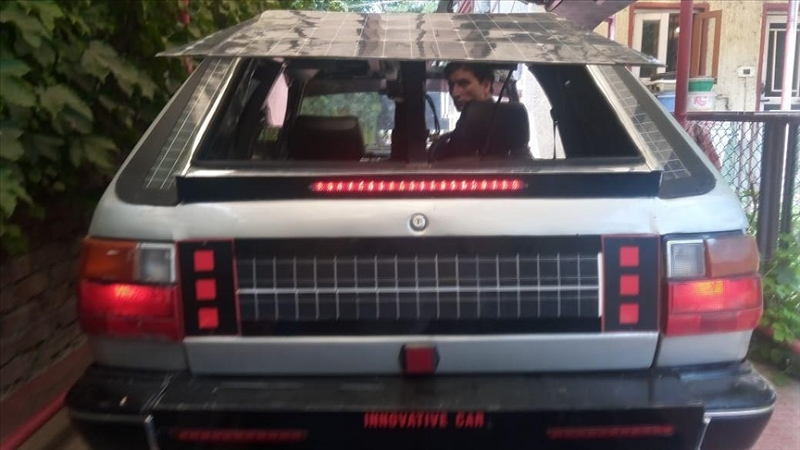 SRINAGAR:

It has been 13 years of perseverance and struggle for Bilal Ahmad, a mathematics teacher in the capital of Indian Illegally Occupied Jammu and Kashmir (IIOJK), to produce the region's first solar-electric automobile that operates completely on solar energy and can also be charged with electrical energy.
Ahmad, 40, became an overnight sensation in the region after his pictures and videos of the car went viral on social media last month.
While talking with Anadolu Agency at his home in Srinagar, Ahmad expressed surprise that his product has received such a positive response and recognition from the public.
"I never imagined that my innovation will generate such positive gestures from people," he said, referring to being called "Elon Musk of Kashmir" when his solar-electric car went viral.
In 2009, Ahmad was deeply touched by an article in which he read that in the coming years, petrol prices would increase exponentially, making it difficult for the average person to afford a car.
"Then I decided to develop something that people could afford," Ahmad explained.
Years of struggle
When Ahmad finished his civil engineering degree in 2007 from a college in the Indian state of Bengaluru, he was eager to put his talents and expertise to use.
Two years later, he began working on his dream project of creating a solar car that was affordable to the general public.
He began by reading articles and watching videos on social media to better understand how he might carry out his vision and make it a reality.
"I proceeded with careful planning and research for this project. I made certain that anything I was attempting to do was unique and effective," he explained.
So, he began reading and learning about cars from across the world that came into existence in the 50s. He was inspired by the work of Delorean, an engineer and innovator from Detroit in the US who owned the automobile company DMC.
However, Ahmad had to face a lot of hurdles to complete his dream project. The cycles of violence, limited resources, and financial difficulties left him disheartened, though he did not give up.
"When I started working on the project, I knew there would be problems arising out of the situation, but I kept going with it," Ahmad said.
He spent nearly $18,000 on the project and employed at least 10-15 workers to complete the project.
Affordable
Ahmad has received accolades ranging from former IIOJK chief minister Omar Abdullah to Indian industrialist and tech titan Anand Mahindra, who, while admiring his vehicle, offered him assistance in expanding the solar-electric vehicle into a full-fledged model.
His automobile is a four-seat luxury solar car, unlike other solar cars, which typically have two seats, he says.
The car contains monocrystalline solar panels attached to its surface area on the front, upper, and backside, which are exposed to the sun to generate maximum energy to run the car. Also, the car has the advantage of charging through electricity if there is less availability of solar energy.
"This car is fully automatic and has gullwing doors to suit the space limits," he explained as he drove it.
Ahmad said he had a few meetings with the team of Anand Mahindra to work on his production, and that his focus, for now, is to patent it as soon as possible so that common people can buy it.
"If your innovation is not for the common good, then it is just a business model. My goal is for the common good, and I am working toward it," he said.