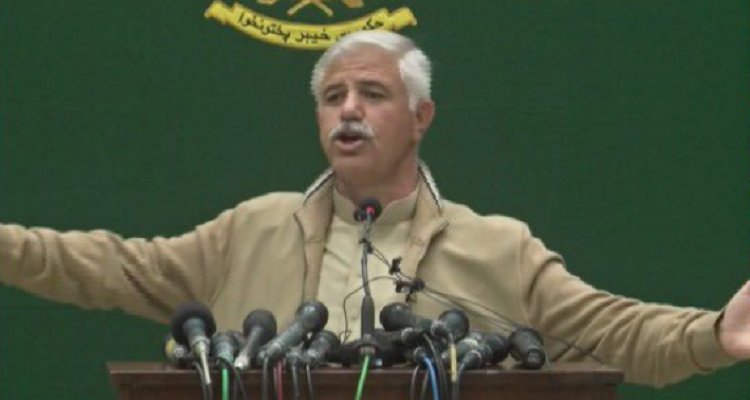 [ad_1]
Chief Minister of Khyber-Pakhtunkhwa (K-P) Mahmood Khan on Saturday announced that the provincial assembly will be dissolved today.
Addressing a presser in Peshawar, Khan stated that this was his "last address" as the K-P assembly would be dissolved today.
وزیر اعلی کے پی محمود خان کا تقریب سے خطاب۔ بطور وزیراعلی یہ میرا آخری خطاب ہے۔ آج کے پی اسمبلی بھی تحلیل کردی جائے گی۔ دو تہائی اکثریت سے واپس آئیں گے۔@IMMahmoodKhan pic.twitter.com/yDQTOOTCVL
— PTI (@PTIofficial) January 14, 2023
The minister stated that he was subordinate to Pakistan Tehreek-e-Insaf (PTI) Chairperson Imran Khan, who would not give further suggestions, but rather would signal when the summary for the dissolution will be sent to the K-P governor.
Khan congratulated his cabinet and governing body, adding that victory and loss were part of elections.
The K-P CM claimed that the PTI, based on its performance would win a two-thirds majority vote in the upcoming elections.
Khan also condemned the recent terrorist attack on a Peshawar police station where three police officers were martyred.
"The police have made immense sacrifices. We are trying to fight and eradicate terrorism," he said.
Labelling Interior Minister Rana Sanaullah a "joke", the K-P chief minister said that if the province lost against terrorism then Sana would be unable to hide out in the Sindh or Punjab House.
K-P assembly dissolution
Earlier this week, Special Assistant to Chief Minister on Information Barrister Muhammad Ali Saif had said that after the dissolution of the Punjab Assembly, a summary will be sent to the governor to dissolve the K-P Assembly.
The provincial government spokesperson had said that the advice to dissolve the assembly will be given to the governor two days later (today).
The Punjab Assembly will be dissolved in 48 hours after which K-P Chief Minister Mahmood Khan will send advice to the governor for the dissolution of the provincial assembly, he had said.
Read ECP stands firm, says Sindh LG polls as per schedule on 15th
He had also said that there was no problem in K-P, but they would wait for the dissolution of the Punjab Assembly.
He had added that after the dissolution of the K-P Assembly, a letter will also be written to the leader of the opposition, Akram Khan Durrani, for the appointment of a caretaker chief minister.
The move comes shortly after Punjab Chief Minister Chaudhry Parvaiz Elahi advised Governor Balighur Rehman to dissolve the Punjab Assembly, fulfilling the promise to Pakistan Tehreek-e-Insaf (PTI) Chairman Imran Khan and paving the way for fresh elections.

[ad_2]
Source link