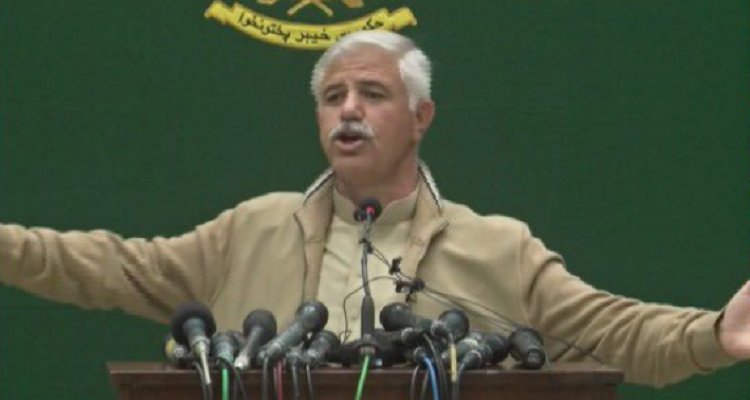 [ad_1]
The dissolution of the Khyber-Pakhtunkhwa Assembly has been delayed as Chief Minister Mahmood Khan has called a meeting of the PTI parliamentary party on Sunday (today).
The huddle will make the final decision about when to send the summary for the assembly's dissolution after taking into consideration all aspects of the political situation.
Earlier, it was announced that the summary would be sent to the governor on Saturday.
وزیر اعلی کے پی محمود خان کا تقریب سے خطاب۔ بطور وزیراعلی یہ میرا آخری خطاب ہے۔ آج کے پی اسمبلی بھی تحلیل کردی جائے گی۔ دو تہائی اکثریت سے واپس آئیں گے۔@IMMahmoodKhan pic.twitter.com/yDQTOOTCVL
— PTI (@PTIofficial) January 14, 2023
However, sources said the K-P government, under a new strategy, was considering delaying dissolving the legislature by four to six days — meaning on January 18 or 20.
Sources said the reason for the delay was that the provincial government still had to settle some "important matters".
They added that the K-P government also wanted to see that the Centre did not cause problems for PTI chairman and deposed premier Imran Khan after the dissolution of the Punjab Assembly and the end of the government of CM Parvez Elahi.
In that case, the K-P government would make all efforts to protect the party chief.
Otherwise, the K-P Assembly will be dissolved as per the original plan.
Read ECP stands firm, says Sindh LG polls as per schedule on 15th
The sources added that there should be no doubt over the dissolution of the K-P Assembly.
They added that the provincial assembly would be dissolved as per Imran's announcement so that the way for fresh elections could be paved.
On Friday, the opposition in the K-P Assembly had decided against tabling a no-trust motion against the chief minister to stop the dissolution of the assembly.
Speaking to reporters in Peshawar, PML-N deputy parliamentary leader and provincial spokesperson Ikhtiar Wali Khan claimed that the chief minister should stop requesting the opposition members to file a no-confidence motion against him to stop the dissolution of the legislature.
"He [Mahmood Khan] should show courage and go ahead with it [dissolution of the provincial assembly]," he added.
The PML-N leader added that his party would expose the "corruption" committed by the PTI government in the province of K-P and prepare for the elections with the slogan of "accountability".
The PML-N leader was apparently referring to the impression that the K-P chief minister was not ready to let go of power yet.
On Thursday, Punjab Chief Minister Chaudhry Parvez Elahi had signed the summary for the dissolution of the provincial assembly.
The advice to dissolve the assembly came less than 24 hours after the chief minister obtained the vote of confidence from the Punjab Assembly in the wee hours of the day.
There were reports that the Punjab CM too had asked the opposition to file a no-confidence resolution against him to delay the dissolution of the assembly.

[ad_2]
Source link