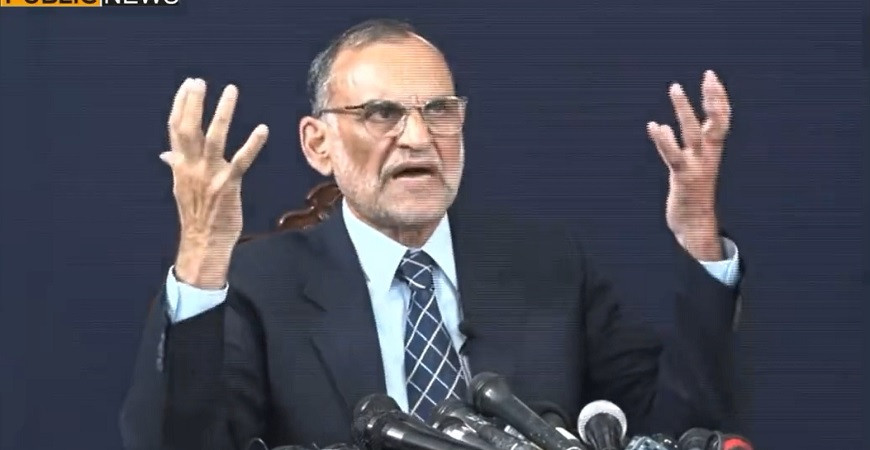 [ad_1]
PTI Senator Azam Swati has said that the country cannot progress until the judiciary comes out of the influence of the establishment and renders its impartial role for dispensing justice to the needy masses.
"Remember one thing, Pakistan cannot be put on a track of prosperity if there is no rule of law," the PTI leader said on Saturday while speaking to the reporters at district courts, where the Lahore Bar Association's election was under way.
Swati said everyone was looking towards the judiciary "but unfortunately the doors of the country's top court are shut".
He urged the judiciary to "play its role to bring those who consider themselves above the law into the dock to set an impression that all are equal in the eyes of law".
The PTI leader said justice had not been done in the case of slain journalist Arshad Sharif, who was allegedly shot dead by the police in Kenya in October last year.
"It seems Arshad's family has been left helpless behind the truck's red light."
Also read: PTI senator Azam Swati released from sub-jail
He also called upon the armed forces' new command to play their role for the survival of the economy, morality and social values.
Swati urged the military to bring to book those who tarnished the image of the institution by violating the Constitution.
Lashing out at former army chief Gen (retd) Qamar Javed Bajwa, the PTI leader said he "will continue chasing him".
Swati was released from a sub-jail in Islamabad on January 3, a month after he was detained for allegedly using abusive language on social media against the military's top brass.
He had been incarcerated on November 27 after the Federal Investigation Agency booked him in Islamabad over a "campaign of intimidating tweets against state institutions", including the former army chief.

[ad_2]
Source link