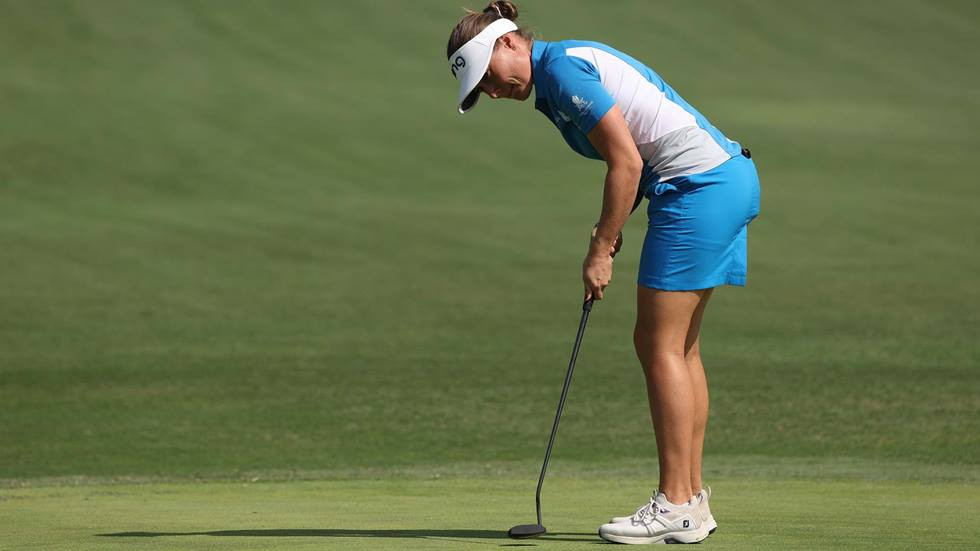 Sweden's Linnea Johansson fired a superb seven-under par 64 on Thursday to grab the first-round lead in the LPGA LA Championship at Wilshire Country Club.
Johansson, ranked 358th in the world, hadn't made a cut in two prior starts this season, but she was on-target on Thursday as she hit 14 of 14 fairways and 15 greens in regulation.
"(I) played fearless golf today and really went after a lot of pins and managed to hit them very close and roll in the putts," Johansson said after a round that featured seven birdies without a bogey. "I actually managed to roll in the longer ones more than the shorter ones. It was just a great day all-around."
The 29-year-old, who played college golf in the United States and first earned her LPGA tour card in 2020, has yet to post a top-10 finish.
"Obviously it's been a little ride for me the past couple of years, struggling a little bit out here," she said. "The girls are good. It's the best players in the world, so it should be tough, and so it is. It's tough for everybody.
"But days when it clicks and when you really hit the shots that you want and manage to roll putts in, that's the days you really enjoy it a little bit more … starting off the tournament here like this, it's great."
Johansson had a one-shot lead over 2019 champion Minjee Lee of Australia and Scotland's Gemma Dryburgh.
Lee had seven birdies, including three in a row at the 14th, 15th and 16th before her only bogey of the day at 17. After playing the back nine first, she added four birdies coming in for a 65.
"I started just with pars and then made three birdies in a row — that was a nice way to finish off my front nine," said Lee, who said the Wilshire layout "reminds me a little bit of home".
"It just kind of gives me good vibes," said Lee, whose eight LPGA titles include a major at the 2021 Evian Championship.
"It was a nice, solid day," Lee said.
Dryburgh, chasing a second LPGA tour title after capturing her first at the Toto Japan Classic last November, had eight birdies and two bogeys in her 65.
Five of her birdies came in a blistering front nine, including three in a row at the sixth through the eighth.
She said a 15-foot putt at the sixth was "a bit of a bonus." She hit it close at the seventh — a hole she has aced before — and again at eight.
"I could have birdied every hole to be honest," Dryburgh said. "I hit it pretty close on all the holes, which was nice, and saw the putts going in, which was good."
Lilia Vu, who won her first major title at the Chevron Championship on Sunday, carded a 69 and was joined in the group at two-under by world number one Nelly Korda of the United States.
Defending champion Nasa Hataoka of Japan opened with a one-under par 70.


Source link