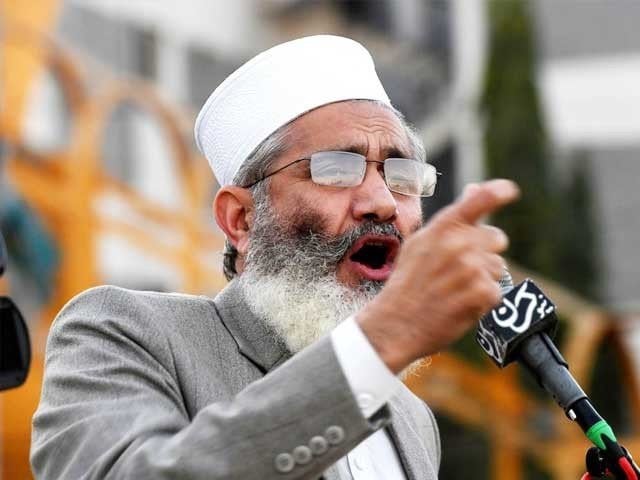 [ad_1]
Terming Pakistan's rulers "thieves", Jamaat-e-Islami (JI) chief Sirajul Haq said that those who betrayed the country and supported the British are the ones who are in power today.
He said this while addressing a workers' convention in National Assembly (NA) constituency NA-54 Rawalpindi, Express News reported on Sunday.
"Pakistan is your home, the land is a place of honour, it is like a mother's lap and it is the only state that was built on the Kalima Tayyaba after Medina," he said, adding that those ruling the country were the ones who originally aided the British against it.
Siraj said that the people were enslaved then and they are enslaved now and this "slave conspiracy group" was imposed on the country after the creation of Pakistan, which curtailed the Islamic system and democracy.
The JI chief said that the doors of the parliament should be closed for these people, since they are the "children of Mir Jafar and Mir Sadiq".
Because of them, 230 million people are indebted to the International Monetary Fund (IMF) and the World Bank (WB).
He said that those with the atomic bomb and the best army in the world are forced to run after flour.
Siraj said that these people are imposed in martial law, and even when there is democracy, these same families are imposed, and now they are imposing their "princes and children" on the people.
He added that because of them, 85 percent of Pakistanis are forced to drink dirty water.
He further said that there is no democracy in Pakistan Tehreek-e-Insaf (PTI), Pakistan People's Party (PPP) and Pakistan Democratic Movement (PDM), and inflation and unemployment are due to them.
The JI chief pointed out the way Nawaz Sharif, Shehbaz Sharif, Asif Ali Zardari and Imran Khan go to the United States and come back with a "sign of victory".
He slammed them for not playing any role in the freedom of Kashmir.
He further said that Japan is standing on its own feet even after the nuclear attack, but Pakistan is far beneath. He termed the country's rulers "more dangerous than the enemy".

[ad_2]
Source link