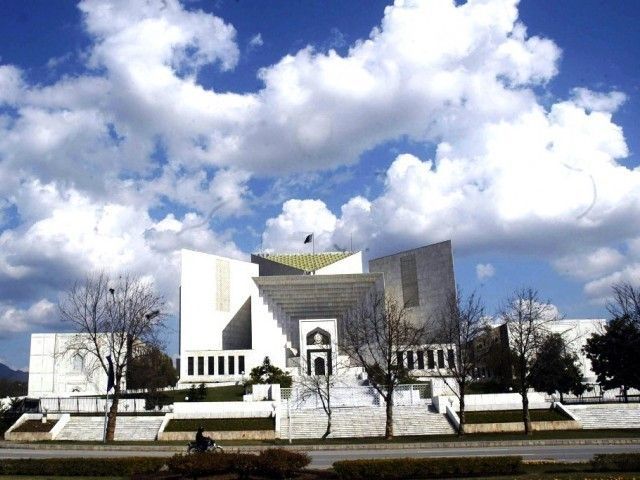 The Judicial Commission of Pakistan (JCP) rules committee has agreed on four qualities, regarding the appointment of superior courts' judges, namely competence, integrity, capacity and temperament.
A meeting of JCP rules committee was held under the chairmanship of Chief Justice Umar Ata Bandial on March 19 to chalk out criteria and hold consultations prior to the nomination for appointment of judges.
The committee comprised five members including CJ Bandial, Justice (retd) Maqbool Baqar, Justice (retd) Sarmad Jalal Osmani, then attorney general for Pakistan Khalid Javed Khan and Pakistan Bar Council member Akhtar Hussain.
It was learnt that the JCP chairman shared the outcome of the meeting with all commission members including the high courts' chief justices through a summary, which is available with The Express Tribune.
Read JCP committee suggests how best to pick judges
The summary concluded that all committee members while discussing the criteria for judges' appointment had unanimously agreed on four qualities namely competence, integrity, capacity and temperament.
All members except Justice (retd) Baqar agreed that prior consultation with CJ concerned before nomination was not and could not be made binding.
However, senior lawyers believed that independence and courage was the most significant component for a superior court judge but surprisingly same was not mentioned in the agreed criteria.
The lawyers noted that there was a strong perception that the judicial proceedings were being manipulated by the security establishment in sensitive cases and that the same was alleged in ex-judge Shaukat Aziz Siddiqui's case.
In order to do away with this perception, the JCP needs to consider those nominees who are not be influenced by the external as well as internal elements.
Lawyers maintained that the superior judiciary was faced with a major challenge in this regard as it was "working under the influence of establishment for the last five years".
According to the summary, each member of the committee gave his view on the criteria for the appointment of judges. Justice (retd) Osmani stressed integrity, competence, hardworking and capacity.
According to him, a judge should be well mannered, willing to listen and polite to the lawyers. However, there is no need for written examination.
Justice (retd) Baqar while agreeing with Justice (retd) Osmani questioned how the criteria would be applied and measured.
PBC member Akhtar Hussain agreed with Justice (retd) Osmani but said that a methodology in this regard remained a question. He said the purpose of consultation with the bar was not to restrict the chief justice's power but to assist him for the right nomination.
Hussain said there should be a separate performa for the elevation of district and sessions judges as well as the candidate for a bar.


Source link