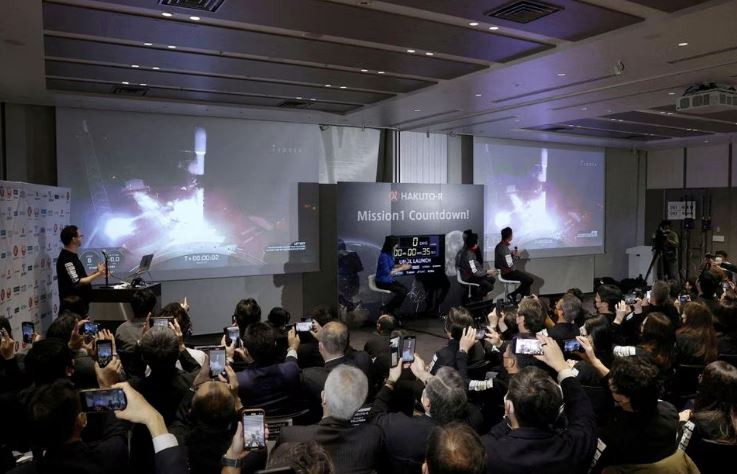 Japanese startup ispace inc (9348.T) is preparing to land its Hakuto-R Mission 1 (M1) spacecraft on the moon early on Wednesday, in what would be the world's first lunar landing by a private company if it succeeds.
The M1 lander is set to touch down around 1:40 a.m. Japan time (1640 GMT Tuesday) after taking off from Cape Canaveral, Florida, on a SpaceX rocket in December.
Success would mark a welcome reversal from the recent setbacks Japan has faced in space technology, where it has big ambitions of building a domestic industry, including a goal of sending Japanese astronauts to the moon by the late 2020s.
In one of the biggest blows, Japan Aerospace Exploration Agency (JAXA) last month lost its new medium-lift H3 rocket to forced manual destruction after it reached space. That was less than five months since JAXA's solid-fuel Epsilon rocket failed after launch in October.
Also read: India, US start joint military air exercise, with Japan as observer
The 2.3-metre-tall (7.55 ft) M1 will begin an hour-long landing phase from its current position, in the moon's orbit some 100 km (62 miles) above the surface moving at nearly 6,000 km/hour (3,700 mph), Chief Technology Officer Ryo Ujiie told a media briefing on Monday.
Ujiie likened the task of slowing down the lander to the correct speed against the moon's gravitational pull to "stepping on the brakes on a running bicycle at the edge of a ski jumping hill."
Only the United States, the former Soviet Union and China have soft-landed a spacecraft on the moon, with attempts in recent years by India and a private Israeli company ending in failure.
After reaching the landing site at the edge of Mare Frigoris, in the moon's northern hemisphere, the M1 is to deploy a two-wheeled, baseball-sized rover developed by JAXA, Japanese toymaker Tomy Co (7867.T) and Sony Group (6758.T), as well as the United Arab Emirates' four-wheeled "Rashid" Rover.
The M1 is also carrying an experimental solid-state battery made by NGK Spark Plug Co (5334.T), among other objects to gauge how they perform on the moon.
In its second mission scheduled in 2024, the M1 will bring ispace's own rover, while from 2025, it is set to work with US space lab Draper to bring NASA payloads to the moon, targeting building a permanently staffed lunar colony by 2040.
Shares of the Tokyo-based lunar transportation startup had a blistering market debut on the Tokyo Stock Exchange this month as investors bet its lunar development and transportation business will fit in with Japan's national policy of defence and space development.


Source link