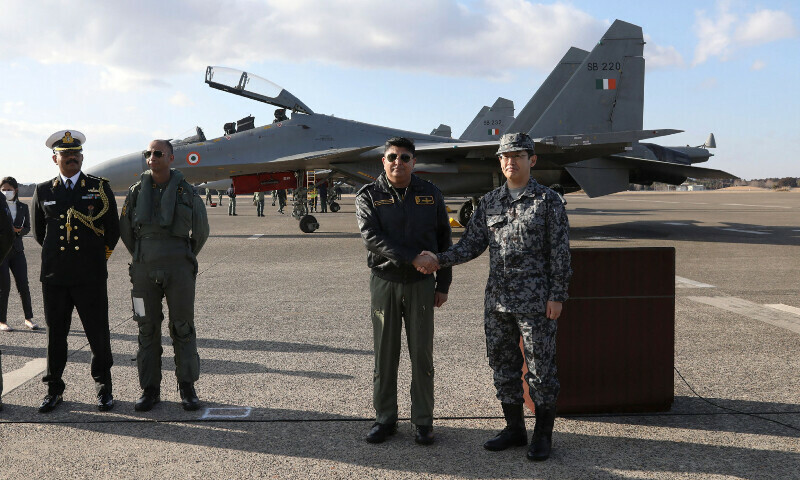 [ad_1]
Japan and India began their first joint fighter jet exercise on Monday near Tokyo as the countries upgrade defence and security ties with an eye on China's growing military might.
The 11-day joint exercise will involve eight Japanese fighter jets, with India sending four fighters, two transport aircraft and an aerial refuelling tanker, Japan's defence ministry said.
Around 150 Indian Air Force personnel are taking part in the exercise at the Hyakuri Air Base in Ibaraki prefecture, northeast of Tokyo.
The drill was agreed upon by the two countries during talks between Japanese and Indian defence and foreign ministers in 2019 but was delayed by the pandemic.
Also read: Russia says Britain's tanks 'will burn' in Ukraine
Japan and India — along with Australia and the United States — are part of the "Quad" alliance, a grouping of regional powers that is increasingly concerned about China's military and economic influence.
Tokyo has held a string of joint military exercises in recent months, as well as overhauling its defence and security strategy and explicitly airing its concerns about China.
In December, Prime Minister Fumio Kishida's government committed to doubling defence spending to two per cent of GDP by 2027 and dubbed China the "greatest strategic challenge ever" to Japan's security.
Last week, Japan inked a new defence deal with Britain and agreed to expand its mutual defence treaty with Washington to attacks in space.

[ad_2]
Source link