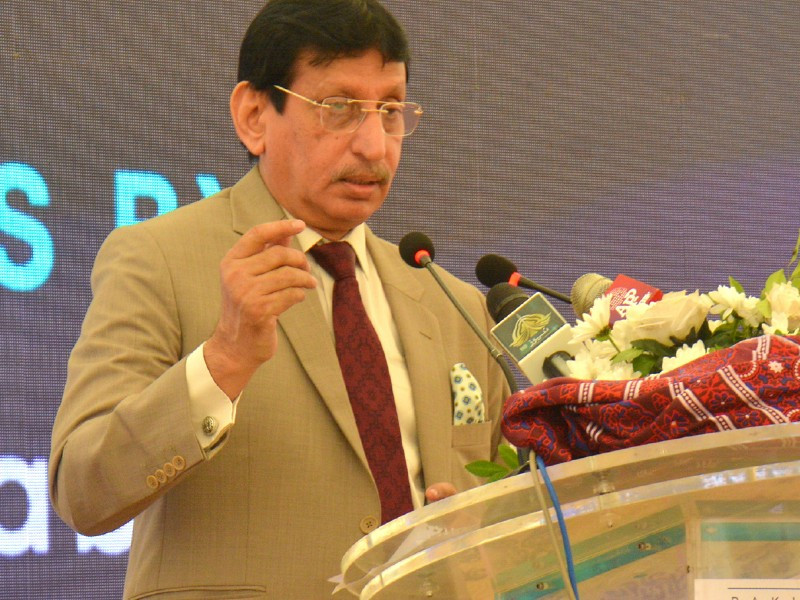 Federal Minister for Information Technology (IT) Syed Aminul Haq on Monday criticised Federal Finance Minister Ishaq Dar for creating hurdles in release of funds and providing relief to the IT sector.
"If I do not remain a minister, you (Dar) too will not remain on the seat either," Haq said at the foundation stone laying ceremony of Karachi IT Park project near Karachi Airport on Monday.
Relief must be given to the Information Technology and Telecom sector according to instructions of the Prime Minister Shehbaz Sharif, Haq said.
Haq said that Muttahida Qaumi Movement-Pakistan (MQM-P) has always prioritised IT sector. "We shared our suggestions with the Finance Minister Ishaq Dar what will be our steps till 2050 but there is no response from Dar for the last three months."
Prime Minister Shebaz Sharif also wants to improve connectivity, Haq said adding, "how things will improve if I fail to provide facilities to the people of IT industry."
Read more: IT park planned near Karachi airport
He said that the Rs42 billion IT Park project will generate job opportunities for more than 20,000 skilled workers of information technology. The largest IT project of its kind in Pakistan would benefit not only the citizens of Karachi, but also the IT professionals and companies of the entire country, he said, and called for gearing up the development work so that the project could be completed in the shortest possible time..
The Karachi IT Park is part of series of IT parks being developed across the country.
He reminded that the project was approved by ECNEC at estimated cost of Rs41.39 billion or $186.658 million which included a loan amounting to $158.416 million by Korean Exim Bank and PSDP local share of Rs6.25 billion.
The project would be completed in June 2026. Haq said that dream of Karachi IT Park had to go through a long process and now it has come true by overcoming all the difficulties and with hard work of all the concerned quarters.
Core objective of the park was to provide a place equipped with IT and telecommunication basic infrastructure requirements, clean facilities and ample working space to enable innovative businesses develop and prosper, the minister said.
The Karachi IT Park would support the creation and development of knowledge-based enterprises besides offering a range of services, would boost knowledge based economy, entrepreneurship and latest Technologies as well, he said adding that park's 11-storey building would provide office space to nearly 225 startups and Small to Medium Enterprises and other ancillary facilities like testing laboratories, classrooms, industry academia linkage centre, and auditorium etc.
The minister further said that the Ministry of IT and Telecommunication has achieved many milestones launched 70 USF projects of OFC and broadband in four provinces at a cost of Rs65 billion.
He informed that in province of Sindh, 20 projects of NGBSD and OFC worth Rs16.30 billion had been started so far in 20 districts, including Tharparkar, Nawabshah, Khairpur, Larkana, Badin, Jacobabad, Shikarpur, Mirpurkhas and Dadu.Syed Amin-Ul-Haque said that for the first time in Pakistan, smart phone manufacturing licenses were issued, under which 29 companies were now manufacturing smart phones and digital devices in Pakistan. He said that National Incubation Centres (NIC) were established in Karachi, Lahore, Islamabad, Peshawar, Quetta and recently in Hyderabad as well while the seventh NIC would be set up in Faisalabad.
"As a result of our initiatives, the volume of IT exports has reached $USD 2.62 billion with an increase of 47% while the amount of investment for Pakistani startups has reached $ 818 millions," he said adding that steps have been taken to provide IT training facilities of international standard to the fresh IT graduates and the Centre of Excellence project for youth training in University of Karachi was under consideration.
Former Federal Minister Dr Khalid Maqbool Siddiqui, speaking at the occasion said that a much bigger IT park was required in metropolis but the initiative was a welcome step and it would ensure better facilities for the sector. He said that work at home was the future work strategy that would remain constant as it has become a practical and feasible approach around the world.
Special Assistant to Chief Minister for IT Tanzeela Umm-Habiba, Consul General of South Korea to Pakistan Kim Haksung and Chief Secretary Sindh Dr. Muhammad Sohail Rajput, also addressed the ceremony.Earlier caretaker MD Pakistan Software Export Board Syed Junaid Imam delivered welcome speech and highlighted the salient features of the IT park project. The ceremony was also attended by lawmakers, Federal and Provincial Secretary IT, academia, representatives of EXIM Bank Korea, officials of Pakistan Software House Association, prominent business personalities and professionals.


Source link