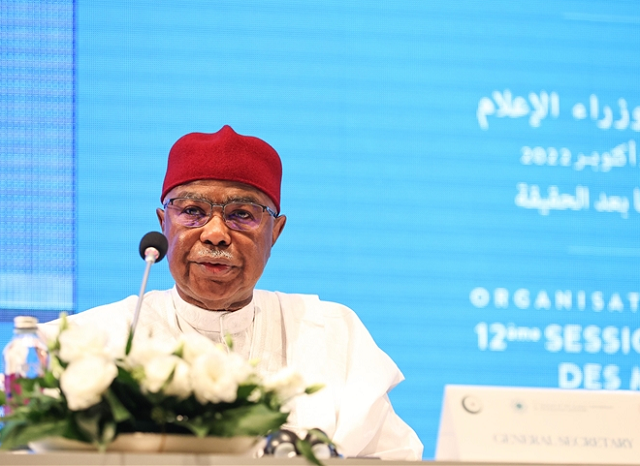 The head of the Organisation of Islamic Cooperation (OIC) on Saturday warned that Israel's "crimes" in occupied East Jerusalem feed violence, tension, and instability in the region.
"Al-Quds (Jerusalem) is an integral part of the occupied Palestinian territory," Secretary-General Hissein Brahim Taha said in a speech to an extraordinary meeting of the OIC Executive Committee called to discuss the Israeli escalation in the occupied territories.
Jerusalem's Al-Aqsa Mosque "is an exclusive place of worship for Muslims," he stressed.
Tension escalated across the Palestinian territories in recent days after Israeli forces stormed the Al-Aqsa Mosque complex in East Jerusalem and forcibly removed worshippers for two nights in a row on Tuesday and Wednesday.
"The Entire Al-Aqsa is the Exclusive Place of worship for Muslims," Says the #OIC Secretary-General at Extraordinary Meeting: https://t.co/SR5yWYxz8Z pic.twitter.com/Pq8DmQB9wX
— OIC (@OIC_OCI) April 8, 2023
The Israeli raids on the mosque triggered rocket fire from the Gaza Strip and Lebanon, with Israeli retaliating with airstrikes.
The OIC chief held Israel fully responsible for "the implications of these dangerous crimes and violations which are capable of stoking violence, tension, instability, and insecurity in the region".
Also read: Israeli police storm Al-Aqsa mosque during holy month
"All Israeli decisions and policies aimed at altering the geographical, demographical standing of the city and undermining the historical and legal status of its holy sites are of no legal effect, null and void under international law and relevant United Nations resolutions," he added.
Palestinians accuse Israel of systematically working to Judaize East Jerusalem, where Al-Aqsa is located, and obliterate its Arab and Islamic identity.
For Muslims, Al-Aqsa represents the world's third-holiest site. Jews, for their part, call the area the Temple Mount, saying it was the site of two Jewish temples in ancient times.
Israel occupied East Jerusalem during the 1967 Arab-Israeli War. It annexed the entire city in 1980, in a move never recognised by the international community.


Source link