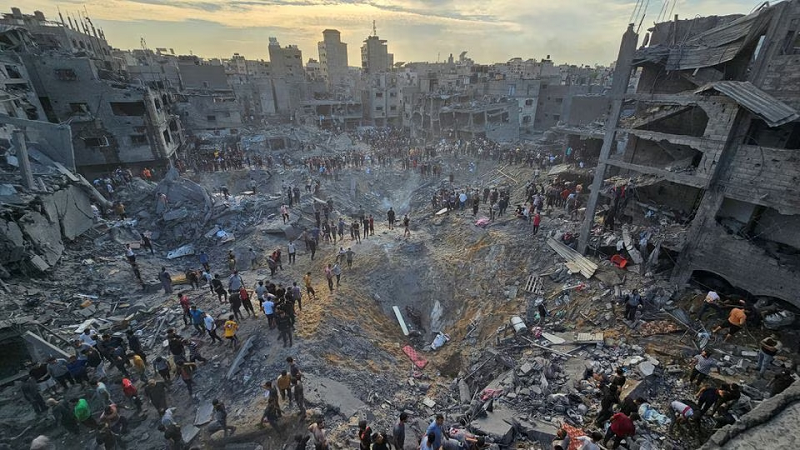 JERUSALEM/
GAZA:

Israel said its forces fought Hamas gunmen inside the group's vast tunnel network beneath Gaza as a hospital director said more than 50 Palestinians were killed in an Israeli air strike on a refugee camp in the besieged enclave.
As the battle inside the tiny Hamas-ruled Palestinian territory intensified, Israeli Prime Minister Benjamin Netanyahu dismissed international calls for a halt to the fighting.
But UN and other aid officials warned that a public health catastrophe was engulfing civilians in Gaza, with hospitals struggling to cope with mounting casualties and food, medicine, drinking water and fuel running short.
The director of Gaza's Indonesian Hospital told Al Jazeera that more than 50 Palestinians were killed and 150 wounded in Israeli air strikes on a densely populated area of the Jabalia refugee camp in northern Gaza.
There was no immediate comment from the Israeli military.
The tunnels under the cramped enclave are a prime objective for Israel as it expands a four-day-old ground offensive – after three weeks of aerial bombardment – into Gaza from the north to hit Hamas in retaliation for the Islamist group's deadly surprise attack into southern Israel on Oct. 7.
Some of the 240 hostages that Israel says were seized by Hamas that day are believed to be held in the tunnel complex, adding a further complication for the Israelis on top of the difficulties of fighting in an urban setting.
"Over the last day, combined IDF (Israel Defence Forces) struck approximately 300 targets, including anti-tank missile and rocket launch posts below shafts, as well as military compounds inside underground tunnels belonging to the Hamas terrorist organisation," an Israeli military statement said.
Fighters responded with anti-tank missiles and machine gun fire, it said. A number of fighters were killed, it said, without specifying a number.
Hamas said in a statement its fighters were engaging in fierce battles with Israeli ground forces, who were taking losses. "The occupation is pushing its soldiers into proud Gaza, which will always be the cemetery of invaders," Hamas said.
An explosion is pictured in the Gaza Strip, as seen from Israel. PHOTO: REUTERS
Israeli forces also bombed the narrow coastal enclave overnight in air, sea and ground attacks, hitting northwestern areas, witnesses said on Tuesday.
On Monday, Israeli forces targeted Gaza's main north-south road and attacked Gaza City, its northern hub, from two directions.
Gaza health authorities say that 8,525 people, including 3,542 children, have been killed in Israeli attacks since Oct. 7. UN officials say more than 1.4 million of Gaza's civilian population of about 2.3 million have been made homeless.
About 1,400 people, mainly civilians, were killed in the cross-border Hamas assault on Oct. 7, Israel says.
Reuters has been unable to independently verify casualty counts.
Ground fighting spreads to south Gaza
The al-Qassam Brigades, Hamas's armed wing, said fighters also clashed early on Tuesday with Israeli forces invading Gaza's south, hitting four Israeli vehicles with missiles.
Fighters also fired at two Israeli tanks as well as bulldozers in northwest Gaza, al-Qassam said. In Beit Hanoun, in the northeast, they "liquidated" an Israeli unit which was ambushed as it entered a building.
Reuters was unable to confirm the details of battle reports. Israel's military had no immediate comment on the Hamas accounts.
Air raid sirens sounded in the area of Israel's far southern resort city of Eilat on the Red Sea on Tuesday and the Israeli military said it downed an approaching "aerial target".
Yemen's Iran-backed Houthis said they had launched a "large number" of ballistic missiles and drones towards Israel, their third operation targeting Israel, with more to come.
The mounting death toll in Gaza has drawn calls from the United States, Israel's main ally, other countries and the UN for a pause in fighting to allow in more humanitarian aid.
Read also: Hamas battles Israel in Gaza as US says 'does not back ceasefire at this time'
US Secretary of State Antony Blinken, speaking in Washington, stressed the importance of both security assistance for Israel and humanitarian aid for Palestinians in Gaza.
"Without swift and sustained humanitarian relief, the conflict is much more likely to spread, suffering will grow, and Hamas and its sponsors will benefit by fashioning themselves as the saviours of the very desperation they created," he said.
Israel has sealed off Gaza and refuses to allow in fuel supplies lest, it says, they be used by Hamas to wage war.
Netanyahu said on Monday Israel would not agree to a ceasefire and would pursue its plans to annihilate Hamas.
A World Health Organization official in Geneva said on Tuesday that a "public health catastrophe" was imminent in Gaza.
Children beneath the rubble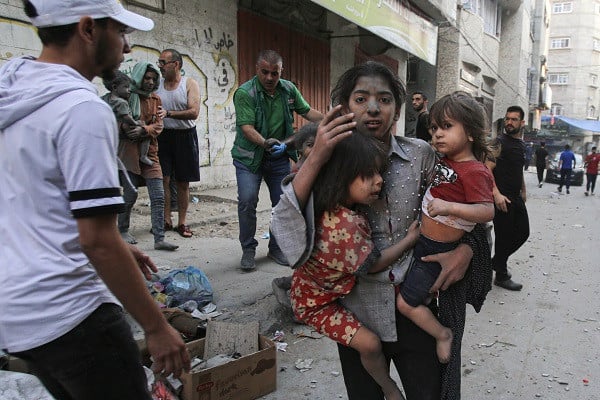 A Palestinian girl holds two children as she stands on a street in Gaza City following in Israeli airstrike. PHOTO: AFP
Air strikes on Monday night outside the Indonesian Hospital in northern Gaza caused a power cut and doctors said they feared for the lives of 250 injured Palestinians being treated there as fuel runs low.
"Running out of fuel would mean no power and no power would mean the inevitable death of many patients," Dr. Moaeen Al-Masri said.
James Elder, a spokesperson for the UN children's agency in Geneva, warned of the risk of infant deaths due to dehydration. Children in Gaza were getting sick from drinking salty water, he said.
About 940 children are reported missing in Gaza, he said, with some thought to be stuck beneath the rubble of buildings flattened by Israeli air strikes.
Significantly fewer humanitarian aid trucks than needed have reached the besieged enclave, UN officials said. Aid trucks have been trickling into Gaza from Egypt over the past week via Rafah, the main crossing that does not border Israel.