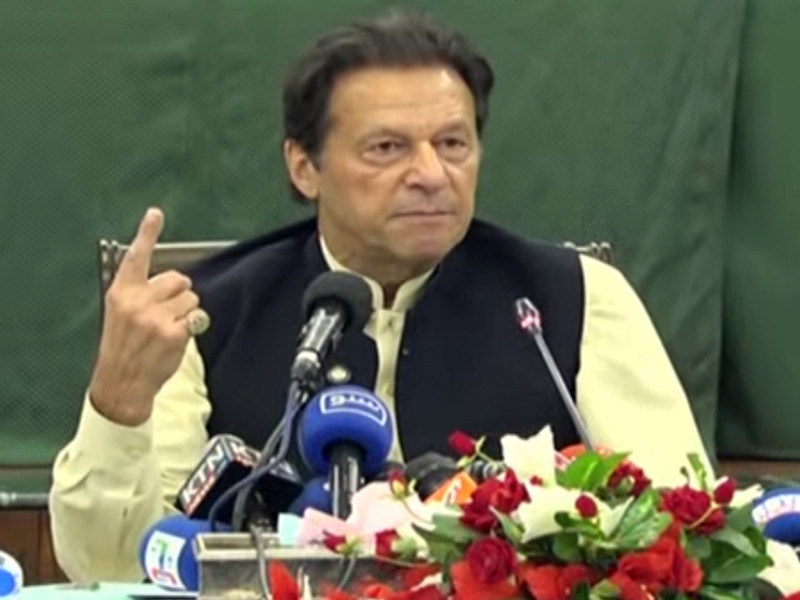 Former prime minister and PTI Chairman Imran Khan has that said his party's long-awaited long march to Islamabad will begin from Lahore on coming Friday.
"I am kicking off the long march from Lahore. We will gather at Liberty Chowk at 11pm on Friday from where we will march towards Islamabad," the PTI chief announced while addressing a press conference in Lahore on Tuesday.
Imran, who was removed from power through a vote of no-confidence in the National Assembly in April this year, said the objective of his long march is to achieve "real freedom" in the country, saying that his protest rally is not a "politics but a struggle to get freedom from thieves".
He added: "This Jihad will determine the direction of the country."
"I'm announcing that the long march will start on Friday from Liberty Chowk"-@ImranKhanPTI pic.twitter.com/LdxTcxPs6G
— PTI (@PTIofficial) October 25, 2022
Imran last Saturday announced that he would reveal the date for the party's much-anticipated long march on coming Friday, saying that he was not expecting any "meaningful result from backchannel talks".
Imran, who has constantly been building momentum for the long march but has kept people guessing about its contours, heightened the suspense when he revealed that the final date for the long march would be announced on October 28, warning that the 'organised protest' could result into chaos if the government attempted to stop it.
"Political parties always hold backdoor talks but I do not think the ongoing talks will have any meaningful outcome," the PTI chief said while addressing a news conference, flanked by party leader Azam Swati in Islamabad on Saturday.
He said that the importance of the negotiations was only to the extent of early elections but, it seemed, the incumbent rulers were not going to call snap polls.
More to follow…


Source link