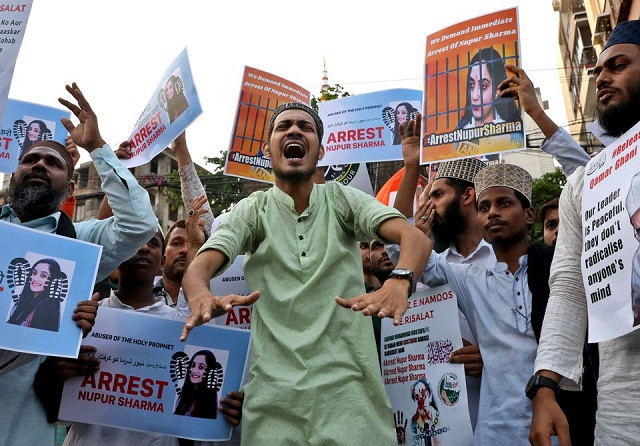 The statements of two Bharatiya Janata Party (BJP) spokespersons, targeting Islam earlier this month exposed the true face of Hindutva fascism in India and its brutal ambitions against the country's Muslim minority community.
The architects of the hate speech who used it as a tool to suppress the already alienated Muslims were understandably not going to sit idle and knew they had to come up with something to divert the anger aimed at them from not just Muslim countries, but other nations too.
What has followed is not surprising as now the planners wanted to project those peaceful protests by Muslims as violent extremism.
That is what exactly happened in Rajasthan state's Udaipur city lately, where a Hindu tailor accused of making anti-Islam remarks was beheaded, with a video going 'viral' in no time.
Soon after, two Muslims openly admitted to the killing, further giving rise to the notion of a pre-planned scheme.
Also read: Pakistan rejects Indian insinuations linking it to Udaipur killing
The way the video went viral on social media and the response that followed points to the said scheme.
Analysts believe there could not be an attempt more foolish than this to turn the tide. Kanhaiya Lal, the victim, was first arrested over posting inappropriate content on the social media but he was released soon after.
The arrest made him known among the locals. He wasn't provided police protection despite his requests to the authorities concerned.
The scheme was aimed to project Muslims, who were known as a suppressed minority, as terrorists.
It is the Modi administration's history to cross all limits to create distraction. Pulwama incident took place when there was a need to deflect attention from the Rafale jet scandal and when votes from the lower caste Hindus were needed.
Then own people attacked the Kabul temple to shed a bad light on the Sikh community.
Also read: Hindu activists, academics condemn BJP's blasphemous remarks
Experts say that the Modi administration must stop this heinous game and the Udaipur incident must be probed by an independent authority.
Simultaneously, the campaign against Islam and Indian Muslims must be seized, as well as checks should be made on the identity of the two men who committed the crime and made it viral on social media.
The BJP government turning a blind eye to the campaign and encouraging hate can lead to further such occurrences.
The entire Muslim world is concerned at the rising tide of Islamophobia in India, which is an extremely dangerous trend not for the country but the region and the world.
The timeline of the Udaipur incident:
May 27: Journalist Muhammad Zubair posted Nupur Sharma's video on Twitter
June 5: Iran, Kuwait and Qatar summoned Indian envoy to register their protest
June 7: Nupur Sharma was suspended and provided state security
June 9: NSA Ajit Doval met Iranian envoy and assured action against culprits
June 10: Protests erupted across India
June 11: Kanhaiya Lal was arrested for supporting Sharma on Twitter
June 16: Kanhaiya Lal was released from prison after five days
June 17: Riaz recorded video of threatening Lal, but released it after the killing
June 27: Muhammad Zubair was arrested
June 28: Ghous Muhammad and Riaz beheaded Lal in Udaipur
June 29: The two suspects were arrested in addition to five others


Source link