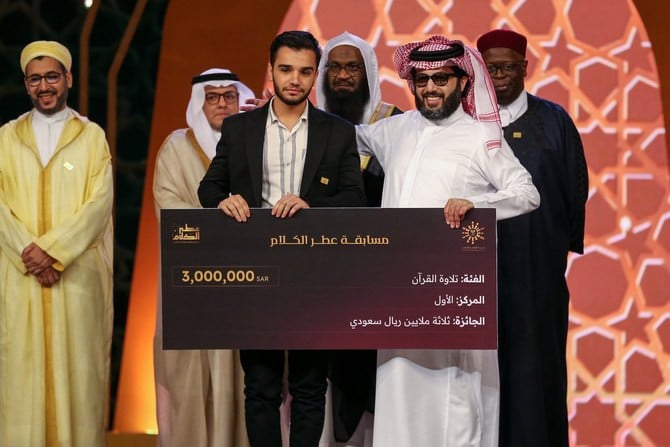 A Saudi and an Iranian have emerged as the big winners in the Otr Elkalam (Scent of Speech) contest, an international Quran recitation and azan (call to prayer) competition, Arab News reported.
Saudi Arabia's Mohammed Al-Sharif won SR2 million ($533,000) for finishing first in the azan category, while Iran's Younis Shahmradi topped the Quran recitation category, receiving SR3 million ($800,000).
Shahmradi, who is in his early twenties, attributed his recitation of the Holy Quran to the influence of renowned Arab reciters such as Mohammed Rifaat and Mustafa Ismail. According to Arab News, the jury praised Shahmradi's recitation as "genius", stating that he possessed a "masterful, balanced voice."
بصوتهِ الرقيق؛ يونس شاهمرادي من إيران ❤️🇮🇷
يتلو آياتٍ من سورة الفتح
تُعرض الحلقة على شاشة mbc ومنصّة شاهد 🌙#عطر_الكلام pic.twitter.com/fPz5RFdZSP
— عطر الكلام (@OtrElKalam) April 5, 2023
He was particularly motivated by his father, who had an impressive voice and taught him tajwid, mastered the maqamat, and delved into the science of the Qur'an.
Read more: Iran names first UAE envoy since 2016
Despite not being fluent in conversational Arabic, Shahmradi's deep love of Maqam Bayati enabled him to recite verses with passion and pronounce the words with distinction. He stated that his win would have a major impact on the lives of his parents and relatives and was a great honour for him.
گشایش در مناسبات #ایران و #عربستان به دایره فرهنگی نیز وارد شد و «#یونس_شاهمرادی» قاری ایرانی قرآن کریم موفق شد تا بالاتر از «عبدالعزیز الفقیه» رقیب عربستانی خود، عنوان نخست دومین دوره رقابت های استعدادیابی قرآنی «#عطرالکلام» عربستان را از آن خود سازد.
۱/۲ pic.twitter.com/OzPIKVzLQb
— بن بست خاورمیانه Middle East Dead End (@MiddleeastDE) April 7, 2023
The final episode of the televised competition, called "Perfumed Speech", aired on Friday, crowning this year's winners.
The show opened with a Quranic recitation by Yunus Gharbi, the Moroccan contestant who won the competition's first edition, followed by Mohsen Kara, the winner of last year's Turkish azan category, performing the call to prayer.
تعرّف على العشرة الفائزين من فئة القرآن في نهائي #عطر_الكلام ❤️ pic.twitter.com/xDGWedeP5v
— عطر الكلام (@OtrElKalam) April 7, 2023
More than 50,000 contestants from 165 countries participated in the qualifying round for the event, which was held in January, and 50 went on to the final round.
تعرّف على العشرة الفائزين من فئة الأذان ❤️🕌
#عطر_الكلام pic.twitter.com/yO7HEKLKSn
— عطر الكلام (@OtrElKalam) April 7, 2023