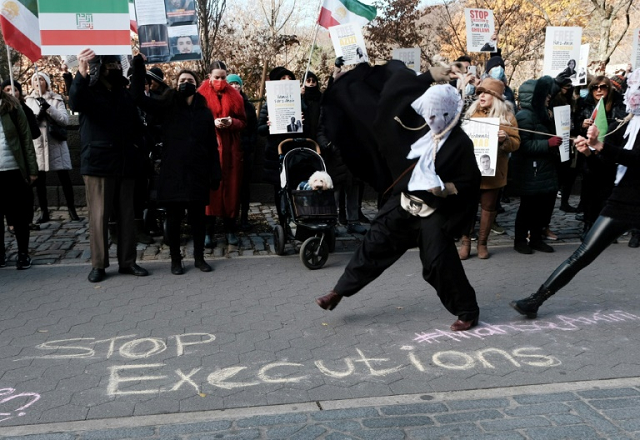 Iran's judiciary on Friday announced the execution of three men linked to the last year's countrywide protests sparked by the death of a young woman while in police custody.
Majid Kazemi, Saleh Mirhashemi and Saeed Yaghoubi were executed in central Iran's Isfahan city, judiciary-affiliated Mizan News Agency said, adding they were involved in the killing of a police officer and two members of the paramilitary Basij force in Isfahan last November.
The incident took place on Nov. 16, 2022, during the countrywide protests in the Khane Isfahan area of the city that is popular with local and foreign tourists, Mizan said.
As Anadolu reported at the time, two motorcycle riders armed with assault rifles opened fire at police and Basiji forces in the Khane Isfahan area.
Two Basijs – 54-year-old Mohsen Hamidi and 30-year-old Mohammad Hossein Karimi – were killed on the spot. Esmail Chiraghi, a police officer, succumbed to his injuries later that day.
Following the incident, President Ebrahim Raisi urged security agencies to "immediately identify the perpetrators and leaders" of the attack and "hand them over to the judiciary."
Mizan report said the three people executed on Friday were "in contact with the terrorist group of munafiqeen," referring to the Iranian opposition group MEK based in Albania.
The agency also released a video purportedly showing the three men confessing to the crime.
The protests in Iran erupted in September 2022 following 22-year-old Mahsa Amini's arrest by the country's morality police and subsequent death while in police custody.
Also read: Pakistan-Iran strides
More than 200 people, including security personnel, were killed in the months-long deadly unrest, according to government officials. Human rights groups, however, put the number above 500.
So far seven people have been executed for involvement in the protests that continued till January. Many more continue to sit on the death row amid growing calls for a reprieve.
On Thursday, Robert Malley, the US envoy for Iran, urged Iranian authorities to not go ahead with their execution, calling it "an affront to the human rights and basic dignity of all Iranians".
"The United States will continue to stand with the Iranian people. We are coordinating closely with our allies and partners to expose and confront the Iranian regime's unremitting human rights abuses," Malley said on Twitter.
Amnesty International in a statement also called for "bold action" to prevent their execution.


Source link