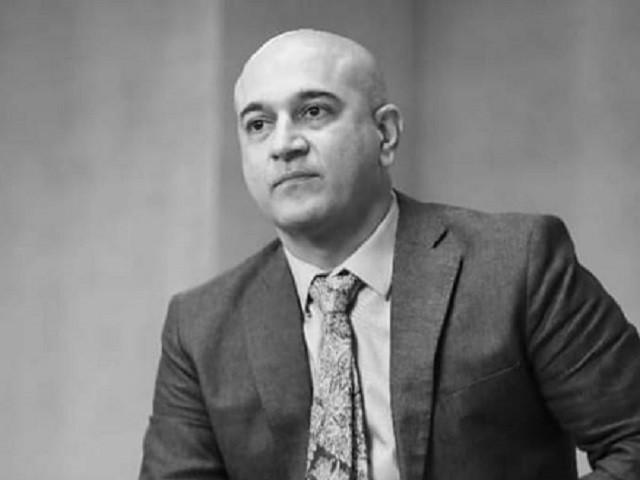 The founder of Iqra University (IU) and social worker Hunaid Hussain Lakhi breathed his last on Thursday in Karachi.
إِنَّا لِلّهِ وَإِنَّـا إِلَيْهِ رَاجِعونَ
It is with great sadness we announce the passing away of Mr. HUNAID HUSSAIN LAKHANI.
Namaz-E-Janaza will be held on Friday, 9th September at Masjid E Saheem after namaz e Jumma (1:30 PM, Khayaban-E-Rahat). #HunaidLakhani pic.twitter.com/Xrp79zBiiB
— Hunaid Lakhani (@HunaidH_Lakhani) September 8, 2022
The 49-year-old philanthropist had been participating in flood relief activities in Thatta where he is said to have contracted dengue fever.
#Flood #SindhNeedsDisasterRelief pic.twitter.com/ICAZkrEqlr
— Waqar Lakho (@LakhoWaqar1) September 3, 2022
On Wednesday Lakhani was reportedly admitted to a hospital in Clifton following the worsening of his symptoms. He passed away on Thursday morning. The funeral is to be held on Friday at Masjid-e-Saheem, Khayaban-e-Rahat in DHA at Asr.
Read Outbreak of dengue, malaria hits Karachi
The educationist's demise has left many in shock as condolences poured in from all segments of society.
Expressing grief over the passing of his "friend", Dr Arif Alvi offered his deepest condolences to Lakhani's family and loved ones.
Very sad to hear about death of my friend Hunaid Lakhani Chairman & Founder of Iqra University.
إنا لله وإنا إليه راجعون
May his soul rest in peace & may his family/friends find the strength to bear this loss
We must remember through these incidents that life is uncertain & short
— Dr. Arif Alvi (@ArifAlvi) September 8, 2022
Popular musician and social worker Shehzad Roy also expressed his shock over the sad news.
I just can't believe that you are gone . My dear freind Hunaid Lakhani passed away this morning
— Shehzad Roy (@ShehzadRoy) September 8, 2022
Politician Raza Haroon also prayed for the departed and the friends and family he left behind.
اناللہ وانالیہ راجعون!
انتہائی غم، دکھ اورافسوس کہ حنیدلاکھانی صاحب کارضائےالہی سےانتقال ہوگیاہے۔ اہل خانہ سےدلی تعزیت۔
اللہ تعالی مرحوم کی مغفرت فرمائے، جنت الفردوس میں اعلی مقام دے۔ اہل خانہ، لواحقین سمیت تمام دوست احباب کو صبر جمیل عطا کرے۔ آمین۔ @ErumAsaad @IqraUniOfficial pic.twitter.com/BTbsv2WvdM
— Raza Haroon رضا ہارون (@mrazaharoon) September 8, 2022
Fellow educationist Ibrahim Hasan Murad also offered his condolences saying "his services in Pakistan higher education will always be remembered".
Deeply sorry to hear about the passing away of educational leader and Chancellor of Iqra University Mr Hunaid Lakhani.
His services in Pakistani higher-education will always be remembered.
May Allah elevate his rank in Jannah.
— Ibrahim Hasan Murad (@ibrahimhmurad) September 8, 2022
"Today we have lost a philanthropist, an academician and a comrade who was more like a brother," tweeted PTI leader Shehryar Afridi adding that, "he worked extensively in various fields to uplift lives of masses".
Today we have lost a philanthropist, an academician & a comrade who was more like a brother, he worked extensively in various fields to uplift lives of masses. Dear Hunaid Lakhani, you will be missed & remembered. RIP Ameen pic.twitter.com/2fJrIgySBQ
— Shehryar Afridi (@ShehryarAfridi1) September 8, 2022
"You will be missed and remembered," he added.


Source link