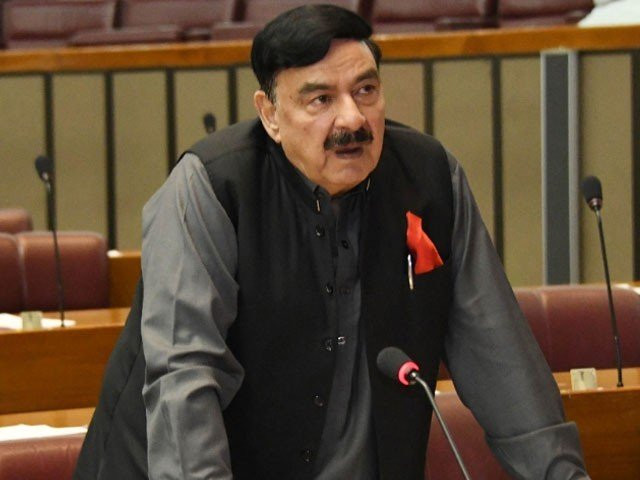 Awami Muslim League (AML) President Sheikh Rashid Ahmed on Tuesday said there will be "no stability in politics" in the country until the issue of the appointment of the new army chief is resolved.
In a tweet, Rashid said that Interior Minister Rana Sanaullah's statement that a new army chief would be appointed even without a summary has rung "alarm bells".
"It is clear from the interior minister's statement that all is not well," claimed the Pakistan Tehreek-e-Insaf (PTI)'s ally, adding that everyone is not on the same page.
Referring to the leaked tax records of General Qamar Javed Bajwa and his family into which Finance Minister Ishaq Dar has ordered an inquiry, Rashid said that "they themselves get the records of the assets leaked and then order an inquiry into it".
جب تک نئےآرمی چیف کی تعیناتی کامسئلہ حل نہیں ہوتاسیاست میں ٹھہراؤنہیں آئےگاراناثنااللہ کابیان بغیرسمری کےبھی نیاآرمی چیف تعینات کردیں گےخطرےکی گھنٹی ہےوزیر داخلہ کےبیان سےواضح ہےسب اچھا نہیں سب ایک پیچ پے نہیں ہیں خودہی اثاثوں کےریکاڈکولیک کرواتےہیں خودہی تحقیقات کاحکم دیتےہیں
— Sheikh Rashid Ahmed (@ShkhRasheed) November 22, 2022
Meanwhile, PTI leader Shafqat Mahmood said that the real challenge for the new army chief will be to make the institution "actually apolitical".
Read Govt yet to ask for COAS appointment summary
He said that the way forward would be to "finish any role of the Inter-Services Intelligence (ISI) in politics".
Mahmood also called for removing and holding people accountable as he named the military general who was identified by party leader Imran Khan for being responsible for the attempt on his life and by Senator Azam Swati for his 'custodial torture'.
Real challenge for new chief; how to make the institution actually apolitical. Way forward. Finish any role of ISI in politics. Remove and hold accountable people like Maj Gen Faisal identified by former PM Imran Khan in the murder attempt on him and by Sen Azam Swati of torture
— Shafqat Mahmood (@Shafqat_Mahmood) November 22, 2022
Talking about the new army chief's selection, PTI's General Secretary Asad Umar said that the new chief of the army staff (COAS) succeeding General Qamar Javed Bajwa will have a "big responsibility" of steering Pakistan towards becoming the country that was envisioned by its founders.
Umar maintained that the new COAS will have to ensure how to take the country into the next phase to be put on the path "envisioned by Allama Iqbal and for which Quaid-e-Azam had struggled".


Source link