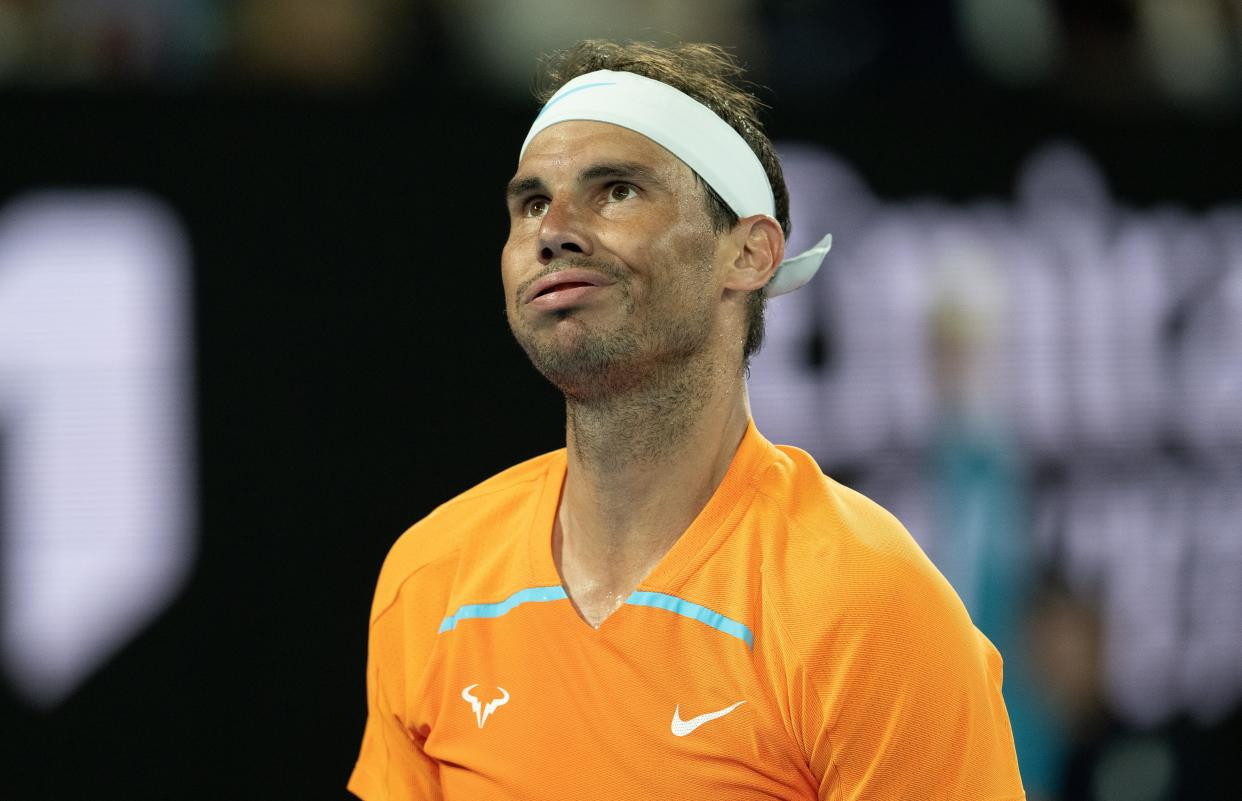 Rafael Nadal on Friday withdrew from next week's Rome tournament, casting serious doubts over his fitness for the French Open as well as potential questions over the rest of his career.
The 22-time Grand Slam winner has not played since suffering a hip injury at the Australian Open in January.
In all, he has competed in just four matches in 2023, winning only once.
The French Open, which the 36-year-old has won on a record 14 occasions, starts in Paris on May 28.
Nadal said his injury situation has improved in the past few days but not sufficiently to be able to compete next week in the Italian capital where he has been champion 10 times.
"You all know how much it hurts me to miss another of the tournaments that have marked my professional and personal career," wrote Nadal on Instagram.
"Although I have noticed an improvement in the last few days, it has been many months without being able to train at a high level and the process of readjustment takes a certain amount of time, and I have no choice but to accept that and continue working."
The 22-time major winner – he shares the men's record with Novak Djokovic – had originally thought he would be out for up to two months.
He pulled out of hard-court tournaments at Indian Wells and Miami, with his sights set on a return at the start of the clay-court season, but it did not come to fruition.
Nadal had to withdraw from Monte Carlo, Barcelona and Madrid, before eventually adding Rome, the final French Open warm-up event, to the list.
World number two Carlos Alcaraz said he hoped his compatriot would return to compete at Ronald Garros at his best level.
"It's a shame to see Rafa miss the tournaments and the clay court tour, which is the most special to him," Alcaraz told a news conference Friday, after reaching the Madrid Open final.
"Health comes first and if he's decided not to go to Rome, he will have seen that he was not ready.
"I hope to see him at Roland Garros 100 percent. The world wants to see him at 100 percent."
Nadal has been plagued by a succession of problems with his ankles, knees, elbow, wrists and now his hip which has also contributed to him losing his spot in the world top 10 for the first time in 18 years.
In his career, which has stretched over 20 years, the Spaniard has missed 11 Grand Slams and withdrew mid-tournament at the majors five times.
When Nadal claimed a 14th French Open by thrashing Casper Ruud in the 2022 final, he revealed he had required daily pain-killing injections in his foot just to see out the two-week event.
He then underwent a radical surgical procedure, having the nerves burned in his foot to eradicate the pain.
Nadal then swept into the Wimbledon semi-finals but an eagerly-anticipated showdown with Nick Kyrgios was shelved after the Spaniard failed to recover from an abdominal strain.
Fast forward to this year's Australian Open where he was hampered by a hip problem during his shock second-round loss to Mackenzie McDonald.
It was his earliest exit from a Slam since 2016.
For Nadal, it was familiar territory.
A left foot problem caused him to miss Wimbledon, the US Open and the Olympics in Tokyo in 2021 and Nadal did not return until the build-up to the 2022 Australian Open, which he went on to win for the second time, 13 years after his first.
But after losing to Taylor Fritz in the Indian Wells final, the Spaniard had to skip the start of the clay-court season in Monte Carlo and Barcelona with a rib stress fracture.
Many pundits consistently predicted Nadal would struggle to enjoy a long career due to his gruelling style of play but he proved them wrong time and again.
His first injury-enforced absence came as a 16-year-old in 2003 when he hurt his elbow in a fall during training and had to miss the French Open.
He has been forced to sit out at least one tournament in every year of his career.
Despite missing so many events, Nadal's will to win has still seen him lift 92 titles and win 1,068 matches on tour.
"It hurts as always," said Nadal after his defeat to McDonald in Australia.
"But in the end, the glass is getting fuller," he added in Spanish, a phrase that means getting fed up or reaching your limit.