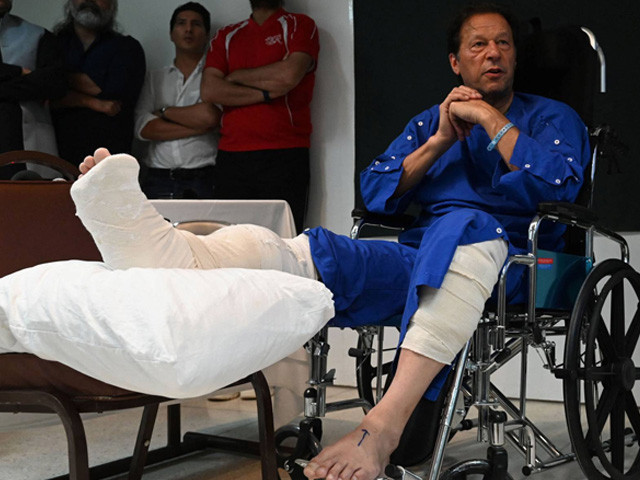 Pakistan Tehreek-e-Insaf (PTI) chief Imran Khan on Monday claimed that his preliminary information regarding the alleged assassination attempt against him came "from within the intelligence agencies".
In an interview with Becky Anderson on CNN, the former premier maintained that he was in power for three and half years and still had "connections within intelligence agencies" who allegedly notified him of the incident in advance.
He furthered that this was because people were "appalled by what is going on in this country" and that the current circumstances were "unprecedented".
"How did I get the information? From within the intelligence agencies."
Former Pakistani PM @ImranKhanPTI tells me about the attempted assassination on his life:
1/2 pic.twitter.com/cQVHKsaE9I
— Becky Anderson (@BeckyCNN) November 7, 2022
"During Musharraf's martial law, I was put in jail. Never did the sort of oppression happening right now occur under his martial law," he stated.
Continuing his response of how he knew about the assassination bid, Imran stated that in his public speech on September 24, he detailed "exactly" how the events would unfold, and how in the name of blasphemy a religious fanatic would attempt to kill him and the government would blame him.
"About two months ago this plot was conceived, I went on in public on September 24 and I announced this plot," he stated, detailing the "background".
"It started when I was deposed from government and what was expected was that our party would just fall part apart – in fact, what has happened is that there was a big public backlash to those two families [the Sharif and Bhutto families] being imposed upon us again who have been ruling for 30 years,".
Imran highlighted that the PTI garnered public support and "won 75% of by-elections after being removed from power" thus causing the government to make him run "out of the race" by trying to disqualify him and accusing him of terrorism.
"They tried everything to get me out of the way, and when that did not happen, this [the assassination attempt] was planned," he said, adding that two months ago, an agency produced a video of him accusing him of blasphemy and then a journalist came up with another video claiming that Imran had offended religious sentiments.
Read Imran urges Alvi to stop abuse of power
"Then the information minister along with the daughter of a former prime minister [Nawaz Sharif], Maryam Safdar went on television saying I have upset the sentiments of the people," he continued.
Imran stated that it was then he went on air and claimed it was a planned attempt because "if they assassinated me, the evidence would go to the government, so they made it out that I was [killed by] a religious fanatic".
Anderson pointed out that the attack was condemned by Prime Minister Shehbaz Sharif and Interior Minister Rana Sanaullah, and Imran's allegations were deemed "unacceptable" by the military. She questioned if it was "not conceivable that the perpetrator was acting alone".
Imran detailed that "there were two shooters", the first hit the PTI leaders in the legs and was only stopped because a person in the crowd "pulled his gun down". He claimed that another volley then attacked the top of the container and came over the PTI leaders' heads.
"It was a planned assassination attempt, I went on air beforehand I warned them that they would blame it on some religious fanatic," he said.
The former premier maintained that the coverup after the attack is why he called for an independent investigation.
"An independent investigation cannot happen with these three people on top because the investigating agencies are under them," he stated, adding that he had appealed to the chief justice of Pakistan to conduct an independent inquiry.
"If my allegations are wrong then that will be revealed. I know the sequence of events; I know the cover-up that took place and is still taking place".
Imran iterated that he did not need to accuse the incumbent government to return to power, with every opinion poll indicating the PTI's popularity and the party winning "75% of the by-elections".
"The two people I have accused, the prime minister and the interior minister, have been accused of a massacre. 12 people were massacred and 60 were hit with bullets when the police opened fire at an unarmed crowd called the Model Town massacre. They have been accused of killing people of assassinations, extra-judicial killings," he added.
He furthered that "as far as the officer involved from the intelligence agency, we know how this whole plot opened up and we know how the video was orchestrated and the cover-up that is taking place".
Read more PTI protests continue
When asked about the reversal of the Pakistan Electronic Regulation Media Authority (PERMA) ban on his speeches by PM Shehbaz, Imran stated that the "clampdown on media in Pakistan is unprecedented".
He said that "one of the best investigative journalists, Arshad Sharif", who was "exposing the plot" against Imran, was "hounded out" of Pakistan and killed in Kenya.
"Two of my closest aides…one a senator, were stripped naked and tortured and both blamed the senior intelligence officer," he added.
Imran further claimed that the ban would not stand in any court of law and that they had no basis to ban him.
He questioned how he could not blame those he was suspicious of after almost being assassinated.


Source link