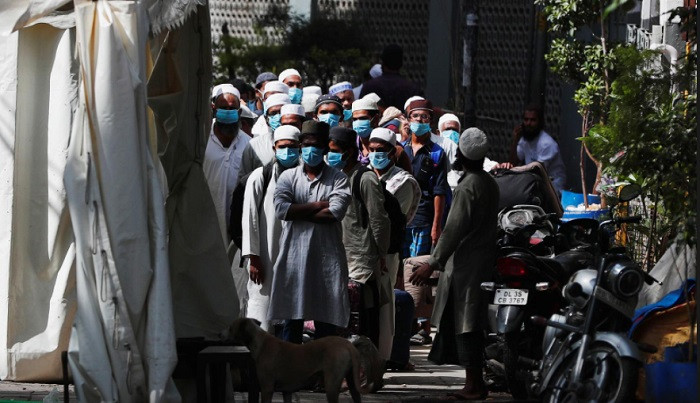 India urged to take steps to end discrimination against minorities

A proper grievance redressal system and the continuous education of health workers are needed to ensure that no discrimination is faced by patients at hospitals on the basis of their caste, religion or gender, according to health experts in India.
With the world marking Zero Discrimination Day on Tuesday, experts also urged authorities to take more steps to ensure that citizens are treated equally while utilising the country's public health services.
A number of surveys in the last few years have pointed to the discrimination faced by people on the grounds of their religion or caste while accessing such services.
In November, a report released by UK-based charity Oxfam provided insights into the suffering of patients while availing of health care services. In the survey, Oxfam India found that around 33 per cent of Muslim respondents had said they experienced discrimination at hospitals on the basis of their religion.
The number of Muslims in India according to the 2011 census was 172 million.
Also read: 'India heading towards genocide of Muslims'
The report also noted that over 20 per cent Dalit and Adivasi (tribal) respondents reported having faced discrimination at hospitals.
The Indian caste system divides Hindus into four main categories – Brahmins, Kshatriyas, Vaishyas, and the Shudras. Outside this, are the Dalits or the untouchables.
Indian public health expert Rajesh Kumar told Anadolu Agency there is a need to have a local grievance mechanism that would address such issues immediately.
"In every public sphere, including the health sector, there is no scope of discrimination because our constitution ensures equality to everyone," Kumar said.
"If these reports have come up with some findings, then there needs to be a proper mechanism which would deal with the violations and take swift actions to stop similar actions in the future."
The Oxfam report was not the only one to come up with such findings.
The Centre for Enquiry Into Health and Allied Themes (CEHAT), an Indian organisation, conducted a similar survey earlier in the financial capital Mumbai.
Its report, which highlighted the various barriers that Muslim and non-Muslim women face in accessing health services, recommended that "health system must address these stereotypes and biases of their staff."
Severe problem
Sangeeta Rege, the coordinator of CEHAT, told Anadolu Agency that the problem is "severe even today and even in metropolitan cities" and maintained that there is a need to address such problems.
"There is an urgent need to educate medical students, nurses and all health workers at a pre-service level to have an intersectional approach to treating and provision of care before these deep-rooted biases set in," she said.
Also read: India on path to genocide amid Modi's silence, warns report
She added that while they also provide a full day of training for all cadres of health workers on the issue of "communalism and how such biases prevent marginalised communities from accessing services," Rege said that "one-time training is not adequate."
"This requires long-term engagement with health workers and an ongoing dialogue," she said.
In 2019, a study of outpatient appointments at one major tertiary care hospital in the capital New Delhi published in the British Medical Journal's online journal BMJ Open, had suggested that there was "extensive gender discrimination in health care access" for women in India.
"This calls for systematic societal and governmental action," the researchers said, adding their study "has important implications for gender-related health policy which has so far focused on maternal health."
No discrimination by doctors
Dr. Sahajanand Prasad Singh, national president of the Indian Medical Association (IMA), an organisation that represents doctors in India, told Anadolu Agency there was no such discrimination happening from the side of doctors.
"For a doctor, every patient is equal, and no discrimination happens on the basis of religion or caste," he said. "However, if such things are reported from the health care side, it should be addressed."


Source link