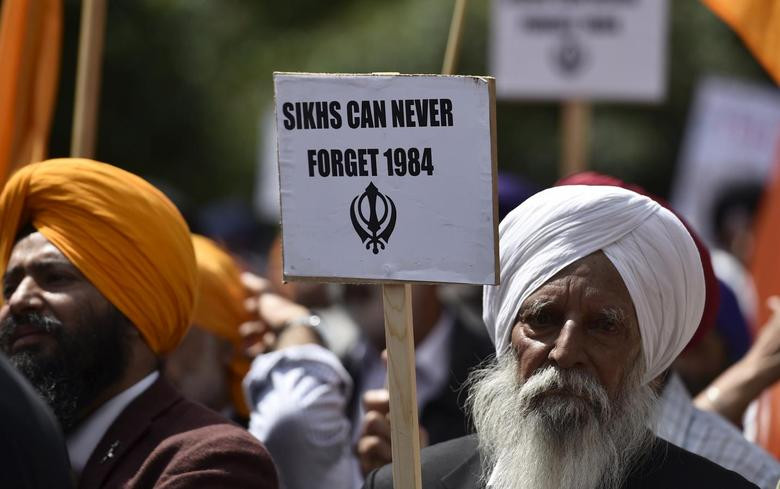 India has "disengaged" from trade talks with Britain after accusing it of failing to condemn the Sikh separatist group that attacked the Indian High Commission in London last month, The Times reported on Monday, citing British government sources.
The incident occurred on March 19, when protesters with 'Khalistan' banners staged a demonstration at the High Commission and took down an Indian flag from the building's first floor balcony to denounce recent police action in Punjab.
"Indians don't want to talk about trade until they get a very public demonstration of condemnation of Khalistan extremism in the UK," a Whitehall source told The Times.
Read more: Pro-Khalistan leader calls upon Sikhs to convene gathering as manhunt continues
However, an official in India's foreign ministry said that progress in the trade talks and New Delhi's concerns around Sikh separatist activities in Britain should not be interlinked.
A diplomatic official in the British High Commission in New Delhi said trade talks will continue in a scheduled manner and security officials in London were addressing India's concerns about Sikh separatist activities in Britain.
"Both the UK and India are committed to delivering an ambitious and mutually beneficial FTA and concluded the latest round of trade talks last month," a spokesperson for Britain's Department for Business and Trade said.
"The Foreign Secretary has condemned the recent acts of violence at the Indian High Commission, and we are working with the Metropolitan Police to review security and make changes to ensure the safety of its staff," the spokesperson added.
New Delhi has been upset about protests and vandalism by Sikh separatists outside its mission in London and elsewhere in the United States and Canada.
Last month, protesters with banners supporting the so-called independent Sikh state of "Khalistan" staged a demonstration outside the Indian High Commission in London and took down an Indian flag from the building's balcony to denounce recent police action against a pro-Khalistan Sikh preacher.
The demand for Khalistan has witnessed a revival in sections of the Sikh population in India and overseas.
India last month summoned the top British diplomat in New Delhi to convey its "strong protest" over the London incident.