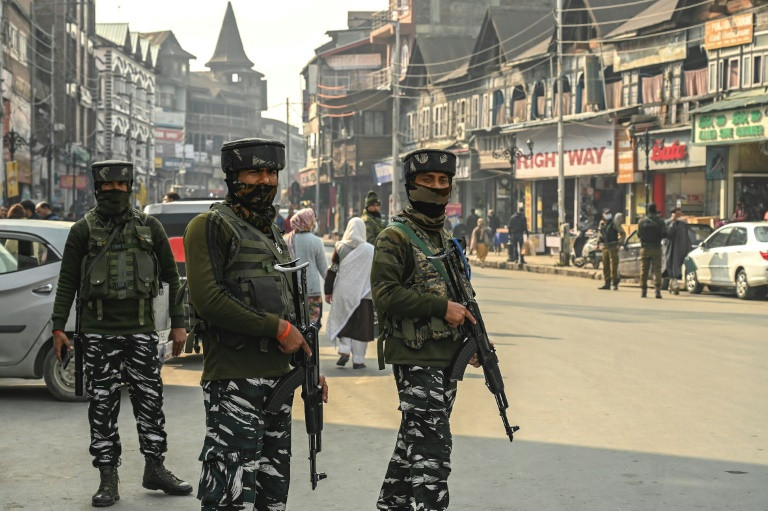 India imposed by far the highest number of internet shutdowns in the world in 2022, internet advocacy watchdog Access Now said in a report on Tuesday, as the country topped the list for the fifth successive year.
Out of 187 internet shutdowns globally recorded by Access Now, 84 took place in India, including 49 in Indian Illegally Occupied Jammu and Kashmir (IIOJK), the New York-based digital rights advocacy group said in the.
According to the report, governments around the world are imposing internet shutdowns at alarming rates and shutdowns were triggered by protests, active conflict, examinations, elections, political instability, and other high-profile national events.
It furthered that both India and Pakistan faced internet closure during protests, as "authorities in Bangladesh, Cuba, India, Iran, Jordan, Kazakhstan, Libya, Myanmar, Pakistan, Sierra Leone, Somaliland, Sri Lanka, Sudan, Tajikistan, Uzbekistan, and Zimbabwe imposed [a total of] 62 shutdowns during protests in 2022".
In India, authorities "disrupted internet access at least 49 times in Jammu and Kashmir due to political instability and violence, including a string of 16 back-to-back orders for three-day-long curfew-style shutdowns in January and February 2022".
The report added that in 2021, around 80% of all shutdowns in India were in Jammu and Kashmir, compared to 58% in 2022.
Kashmir has long been a flashpoint between India and Pakistan, which claim the region in full but rule only parts.
In August 2019, the Hindu nationalist Bharatiya Janata Party government led by Prime Minister Narendra Modi scrapped the autonomy of the Muslim-majority state of Jammu and Kashmir, splitting it into two federally administered territories.
Read IIOJK internet shutdowns
The government has since regularly imposed communications restrictions on the region on security grounds, which rights groups have condemned and described as measures to quash dissent.
Freedom fighters have battled India's rule in occupied Kashmir for more than three decades.
"Authorities in regions across the country are increasingly resorting to this repressive measure, inflicting shutdowns on more people in more places".
The report discussed the proposed draft Indian Telecommunication Bill, which would empower central and state governments with unrestricted powers to impose shutdowns when "necessary and expedient".
It maintained the bill signalled the Indian regime's "intention to continue down this troublesome path, violating fundamental rights of expression and assembly and providing opportunities to cover up human rights abuses".
Ukraine was second on the list, with the Russian military cutting access to the internet at least 22 times after Russia invaded Ukraine on Feb 24 of last year.
"During Russia's full-scale invasion of Ukraine, the Russian military cut internet access at least 22 times, engaging in cyberattacks and deliberately destroying telecommunications infrastructure," the watchdog said in its report.
The report added that there was one internet shutdown in Pakistan.
The shutdown occurred on May 25, 2022, when a reportedly government-ordered internet shutdown was ordered amid protests. The disruption lasted approximately two hours and impacted traffic from Lahore and Karachi.
"The complexity and severity of internet shutdowns have continued to intensify in recent years, becoming a go-to weapon for perpetrators to crush dissent and exert control over the world," the report stated.
{{pdf}}
WITH INPUT FROM REUTERS


Source link