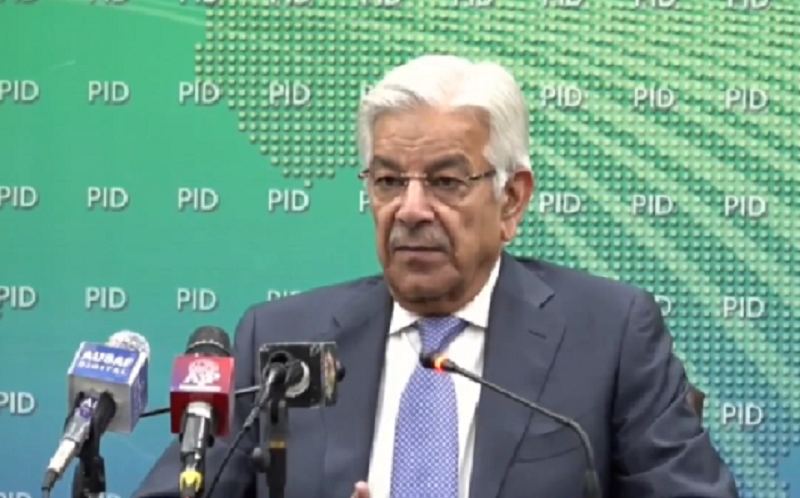 Defence Minister Khawaja Asif has claimed that Pakistan Tehreek-e-Insaf (PTI) "social media warriors" along with India were involved in running a smear campaign against martyrs of Lasbela helicopter crash.
"Not only the PTI social media warriors but social media accounts based in India and some other countries were also supporting the smear campaign against the Pakistan Army," he said while addressing the press conference in Islamabad on Wednesday.
https://www.facebook.com/pml.n.official/videos/383476343862826/
The government ordered an investigation after certain political zealots and a section of social media activists launched an abhorring campaign on popular social media platforms to advance their personal and political malice, following the army helicopter crash on August 1.
Six army officers, including Quetta Corps Commander Lt Gen Sarfraz Ali, embraced martyrdom in the air accident in Balochistan, who were on a mission to provide relief to the flood-stricken people of the province.
The defence minister also said along with 529 local social media accounts, 18 Indian and 33 accounts from other countries had been traced that were supporting the malicious campaign.
"The investigation is heading towards conclusion.. action will be taken against the culprits as per law and Constitution," Asif said while maintaining that no one will be politically victimised.
He said the data collected so far during the investigation was "confirmed and verified" and added that more revelations would be made public in the coming days.
Also read: Arrests likely following malicious anti-military hate campaign inquiry
Speaking about PTI leader Shahbaz Gill's controversial statement against the military was a "diversion tactics" to distract attention from a verdict in the prohibited funding case.
"Imran after remaining silent for four to five days distanced himself from Gill's remarks realising that the move had backfired instead of producing any political dividends," he added.
Last week, the government extended the scope of a Federal Investigation Agency (FIA) investigation into the negative propaganda against the martyrs by including one officer each from the Inter-Services Intelligence (ISI) and the Intelligence Bureau (IB) in the joint inquiry team (JIT).
On Tuesday, a well-informed source said the authorities were preparing to make arrests of the characters involved in the malicious campaign.
According to the sources, the investigation agencies were conducting a round-the-clock probe to bring the characters of this hate campaign to its logical conclusion. They added that startling disclosures had been made in the ongoing investigation.


Source link