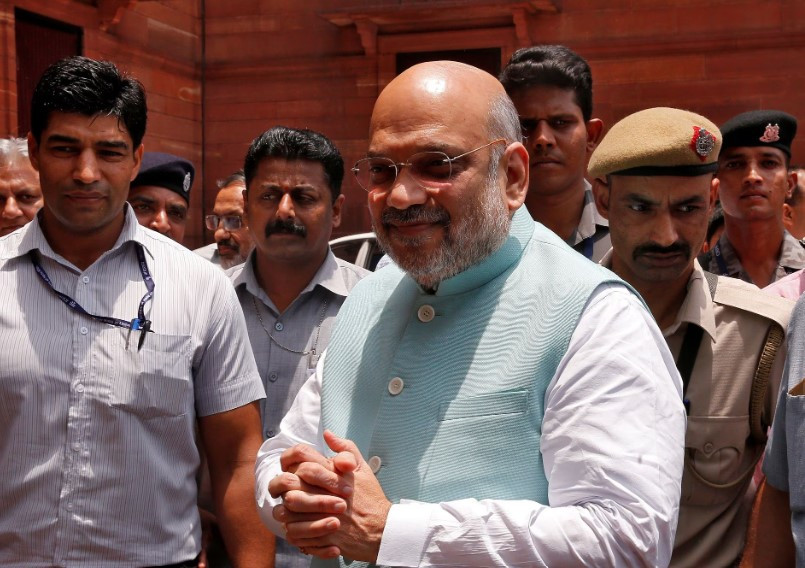 India's powerful home minister on Monday visited a Himalayan frontier state that China claims as part of its territory to launch a 48 billion rupee ($585 million) development scheme he said would add to the security of the unmarked border.
Home Minister Amit Shah said the programme, which will cover nearly 3,000 villages in four states and one federally administered territory on the Chinese frontier, was aimed at helping reverse migration out of border areas.
Shah added during Monday's visit to Arunachal Pradesh that Indian troops, who have long been deployed in the region, were making sure no one eyed its borders or encroached on its land.
His comments came hours after Beijing said it firmly opposed his planned visit to the eastern state and viewed his activities in the area as violating China's territorial sovereignty.
Arunachal Pradesh has become a new flashpoint between New Delhi and Beijing, whose relations have been strained since bloody clashes between their armies elsewhere in the western Himalayas in 2020 in which 24 soldiers were killed.
In December last year, troops from the two sides engaged in scuffles in the state's Tawang sector, and last week India rejected the renaming by China of 11 places, including five mountains, in Arunachal Pradesh.
A map released last week showed the 11 places renamed by China as being within "Zangnan", or southern Tibet in Chinese, with Arunachal Pradesh included in southern Tibet.
Shah, a close confidant of Indian Prime Minister Narendra Modi and considered the second most powerful leader in the government, said Indians in the hinterland were able to sleep in peace because of the "bravery and sacrifices" of the troops on the border.
"They have ensured that no one can eye our borders," Shah told a public meeting in Kibithoo, a border village in the Anjaw district of Arunachal Pradesh, one of India's last inhabited settlements just miles from the Chinese frontier.
"Today we proudly say, gone are the days when anyone could encroach on our territory," Shah said, speaking in Hindi and without naming China.
India and China fought a short but bloody war in 1962, and Kibithoo was among the first to be overrun by Chinese forces.
Shah said there was a worry 10 years ago that the village was emptying, but that the 'Vibrant Villages Programme' he launched on Monday would provide facilities such as banking, power, cooking gas, jobs, physical and digital connectivity to what he called "the first village of India".
Since coming to power in 2014, the Modi government has pumped millions of dollars to boost military and civilian infrastructure along its 3,800-km frontier with China which, analysts say, has riled Beijing.
"Zangnan is China's territory," Chinese foreign ministry spokesperson Wang Wenbin said earlier on Monday in response to a question on Shah's visit.
"The Indian official's visit to Zangnan violates China's territorial sovereignty, and is not conducive to the peace and tranquility of the border situation."


Source link