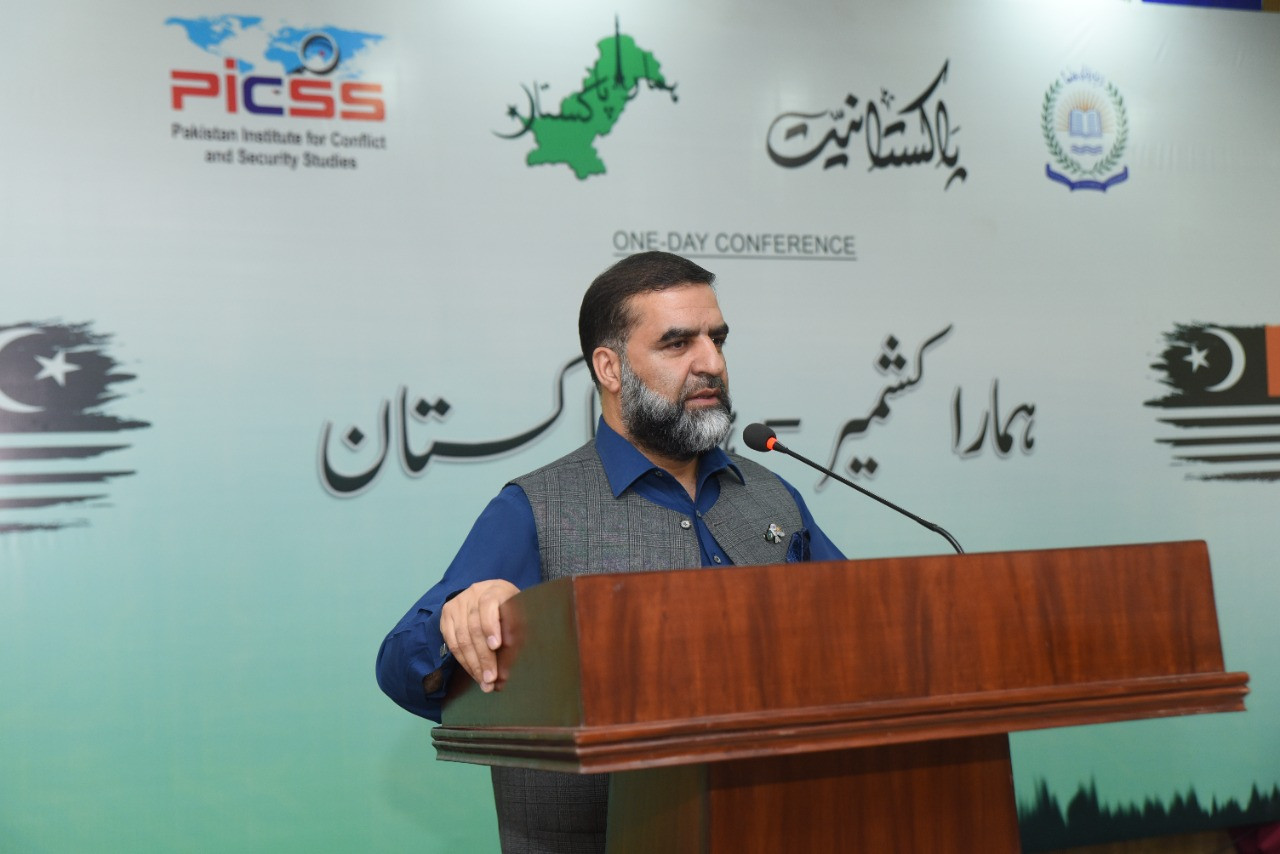 Jammu and Kashmir Salvation Movement (JKSM) Chairman and Hurriyat leader Altaf Ahmed Bhat on Friday said that the August 5, 2019 move was the same as Indian aggression in 1947 that changed the internationally recognised status of Indian Illegally Occupied Jammu and Kashmir (IIOJK) and "is now consolidating its hold in various ways and also justifying its illegal occupation".
These views were expressed by the Kashmiri leader at the conference "Hamara Kashmir Hamara Pakistan" at Poonch University Rawalakot organised by Pakistan Institute for Conflict and Security Studies (PICSS).
He said that the government and educational institutions in all provinces including AJK and G-B should play their role in promoting the narrative of Pakistaniat. "If we do not stand up today against the tactics adopted by India to silent Hurriyat leader Yasin Malik then it will eliminate all pro-freedom leaders one by one in IIOJK in days to come," he added.
He said that India imposed an economic blockade to weaken the IIOJK freedom movement leaders and people. "India has begun the process of systematic depletion of all-natural resources in IIOJK."
He said that India had renamed all the radio stations of IIOJK after All India Radios, adding that July 13, which was Martyrs' Day, has also been removed from the official calendar of IIOJK.
"India has given Kashmir domicile to 150,000 non-Kashmiri Hindus. Now all the universities in IIOJK are directly controlled by India from Dehli."
Read more: JKSM chief urges Pakistan to take 'concrete steps' against Indian actions in IIOJK
He said that all Kashmiri civil services officers are being dumped in remote areas of India and non-Kashmiri officers are being posted in the occupied valley, adding that Srinagar Press Club is run at the behest of the Indian Army.
Pakistan, he said, should appoint a Kashmiri diplomat or any experienced person of Kashmiri descent as Pakistan's deputy foreign minister followed by all parties representative committee, so that the Kashmiri point of view on the Kashmir issue could be fully exposed and presented to the world in the right context.
Bhat said that the government of Pakistan should make the Kashmir freedom struggle the part of Pakistani curriculum and added that if today we do not stand up against the injustice done by India to Yasin Malik then tomorrow it will be the turn of Shabir Shah, Musarat Alam, Asia Indrabi, Nahida Nasreen, Zafar Akbar Bhat and other leaders.
He said that if Prime Minister Shehbaz Sharif, PTI chief Imran Khan and PPP co-chairman Asif Ali Zardari can gather millions of people for their politics then why not for Kashmir.
Speaking on the occasion, former prime minister of AJK Sardar Atiq Ahmed Khan said that many illegal steps have been taken by the Indian government in IIOJK but the rulers of Pakistan and AJK have apparently failed to counter them.
He said that he would raise the slogan of 'Kashmir Banay Ga Pakistan' but he respects all those who raise the slogan of Kashmir will become independent.
He said that Kashmiris and G-B people want to join Pakistan with their identity, adding that during the last 15 to 20 years in Azad Kashmir, the political forces used to chant slogans of "long live Pakistan Army" were pushed to the wall.
"Right-wing forces were strengthened all over the world but right-wing forces were systematically weakened in Pakistan and AJK," he added.
Major General (retd) Saad Khattak in his address said that his training in Azad Kashmir Regiment was due to Kashmiri military officers, adding that the soldiers of the Pakistan Army have made immense sacrifices for Kashmir.
"People of Kashmir have made sacrifices for Pakistan. The relationship between Kashmir and Pakistan is based on sacrifices and blood. No one can separate us," he added.


Source link