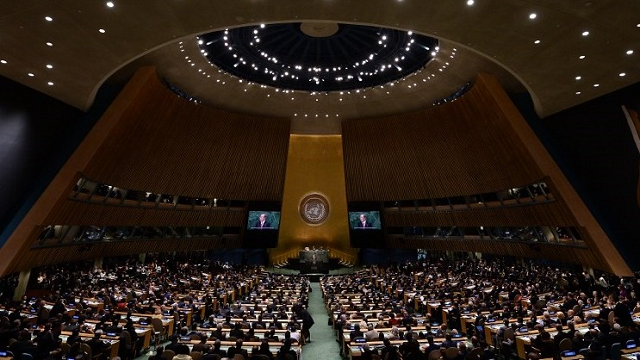 Pakistan abstained from voting on a motion to reject Russian demand for a secret ballot in the UN General Assembly on the resolution to condemn Moscow's 'illegal' annexation of four regions of Ukraine.
India, however, in a major shift in its policy surprisingly succumbed to the pressure from the West especially the US to vote against Russia, held on late Monday night at UN headquarters in New York.
The move by Islamabad to abstain from voting on a procedural matter suggested that it would maintain its stance when the actual resolution condemning Russian annexation of Ukrainian territory would be tabled before the UNGA either on Wednesday or Thursday.
The United Nations General Assembly voted on Monday to reject Russia's call for the 193-member body to hold a secret ballot later this week on whether to condemn Moscow's move to annex four partially occupied regions in Ukraine, according to Reuters.
Also read: Pakistan faces dilemma on anti-Russia resolution
The General Assembly decided, with 107 votes in favour, that it would hold a public vote – not a secret ballot – on a draft resolution that condemns Russia's "illegal so-called referenda" and the "attempted illegal annexation". Diplomats said the vote on the resolution would likely be held on Wednesday or Thursday.
Only 13 countries on Monday opposed holding a public vote on the draft resolution, another 39 countries abstained and the remaining countries – including Russia and China – did not vote.
Russia had argued that Western lobbying meant that "it may be very difficult if positions are expressed publicly." During the meeting on Monday Russia's UN Ambassador Vassily Nebenzia questioned the push to condemn Moscow.
Pakistan was approached by the US and other European countries to vote in favour of the resolution as it has maintained a delicate balance since the eruption of Russia-Ukrainian conflict.
In March, Pakistan joined India, China and other countries to abstain from the voting on a resolution condemning the Russian invasion of Ukraine.
Also read: West pushes Pakistan to 'vote against Russia' at UN
The move drew a strong reaction from the US and its western allies and both Pakistan and India came under tremendous pressure to shed neutrality. New Delhi's move to reject Russia's demand for a secret ballot on the resolution suggested that it finally decided to side with the West.
Meanwhile, despite Pakistan's recent flurry of engagements with the US and European countries, it is still trying to maintain neutrality.
The US and its allies believe that maintaining neutrality on the issue of Russian invasion of Ukraine is tantamount to supporting Moscow.


Source link