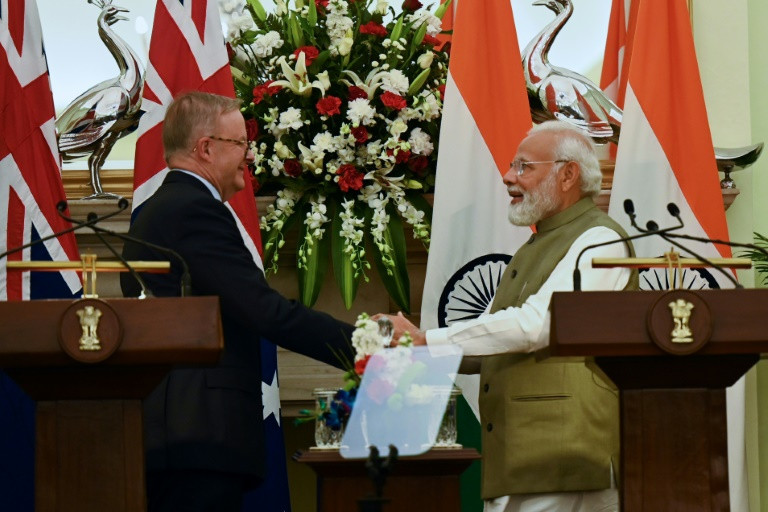 Australian Prime Minister Anthony Albanese and his Indian counterpart Narendra Modi pledged greater defence ties Friday after a diplomatic tour where the leaders bonded over their countries' shared love of cricket.
Australia and India, with Japan and the United States, make up the Quad alliance that is seen as a bulwark against China's assertiveness in the Indo-Pacific region.
Albanese's four-day visit included a Thursday reception aboard the INS Vikrant, India's first homemade aircraft carrier, where he announced new joint military drills.
"Security cooperation is an important pillar in the comprehensive strategic partnership between India and Australia," Modi said Friday at a joint press briefing after a private meeting.
Albanese said "significant" and "ambitious" progress had been made in defence ties with India.
"We discussed the increasingly uncertain global security environment and committed to strengthening the Australia-India defence and security partnership," Albanese said.
Also read: Pakistan's chief justice to skip SCO meeting in India
Friday's meeting came a day after the leaders watched the opening morning of the fourth cricket Test together in Modi's home state of Gujarat.
Both men performed a lap of honour aboard a cricket-themed golf cart at the start of the match, where Australia are fighting to avoid a series loss and India need a win to secure a World Test Championship berth.
"We are competing on the cricket field to be the world's best, but together we are building a better world," Albanese told reporters.
Albanese flies out of New Delhi on Saturday morning and will host Modi in Australia for the next Quad leaders meeting in May.


Source link