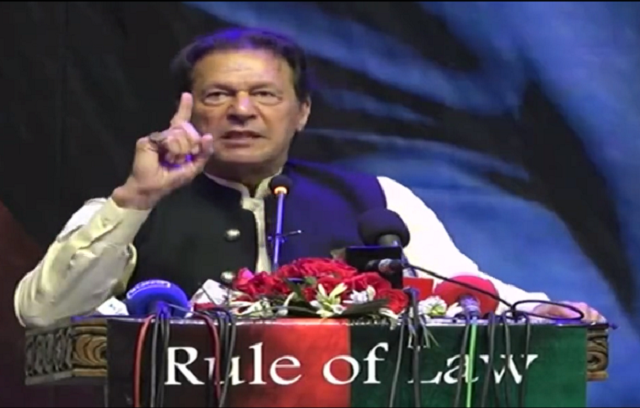 Additional District Judge Lahore Chaudhry Muhammad Asif struck out the right of defence of former prime minister since concerned interrogatories of the plaintiff were not submitted on Thursday.
"This court has been left with no option except to strike out the right of defence of the defendant (Imran Khan) in this case due to non-submission of requisite replies by the defendant regarding concerned interrogatories of the plaintiff. So, the right of defence of the defendant is hereby struck out in this case accordingly," the order stated.
The court asked the plaintiff to submit a list of witnesses on November 29.
It has been learned that the court has so far conducted 78 hearings of the case.
The order stated that the counsel for the defendant submitted an application for adjournment on the ground that the defendant was going to file a revised petition against the order of the court regarding the dismissal of concerned objections of the defendant.
Also read: 'No objections' to Imran's helicopter landing at Parade Ground: GHQ
"From the perusal of record, it reveals that various reasonable opportunities have been provided to defendant to submit the requisite replies to concerned interrogatories of the plaintiff but the defendant has not done the needful," it stated.
"Vide previous order dated 17.11.2022, one more opportunity was granted to the defendant in this regard with the clarification that in case of submission of requisite replies from the defendant's side regarding concerned interrogatories of the plaintiff on the next date, the right of defence of the defendant shall be struck out. No lawful justification exits for the grant of further adjournment," it added.
The court rejected the adjournment plea of Imran's counsel.
According to details, the defamation suit states that Imran started uttering false and malicious statements against the plaintiff (Shehbaz) that the latter offered Rs10 billion to the former through a common friend in exchange of withdrawing the case of Panama Papers pending before the Supreme Court (SC).
Also read: President Alvi in Lahore to consult Imran over COAS appointment
​​​It pleads that the baseless and defamatory statements by the defendant widely circulated by media lowered the integrity of the plaintiff and caused him extreme mental torture, agony and anxiety. The court has been requested to issue a decree for recovery of Rs 10 billion as compensation for the publication of defamatory content in favour of the plaintiff.
In his written statement, the Pakistan Tehreek-e-Insaf (PTI) chief states that one of his friends told him that someone known to him and also the Sharif family approached him with an offer to pay billions of rupees if he could convince him to stop pursuing the Panama Papers case.
Imran says that he disclosed the incident for the consumption of the public at large and in the interest of the public good does not constitute any defamation.


Source link