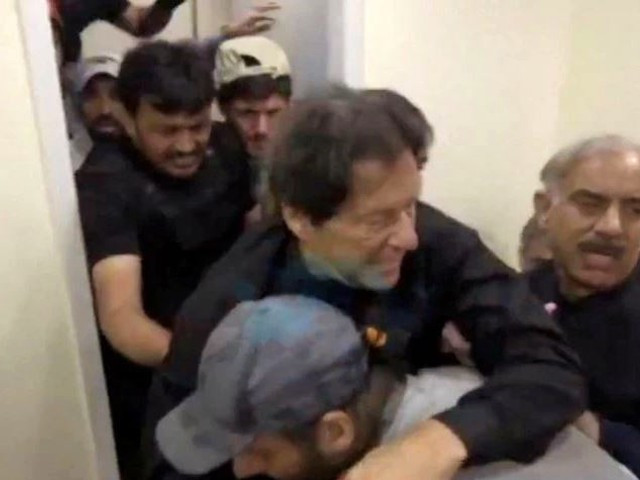 A relative of PTI Chairman Imran Khan has on Sunday moved an application to register an FIR against Prime Minister Shehbaz Sharif, Interior Minister Rana Sanaullah and Major General Faisal Naseer.
On Thursday, the deposed prime minister had suffered a bullet wound to his leg after a gunman opened fire on his container as Imran was leading the PTI's "Haqeeqi Azadi March".
One person had died in the incident, while several members of the PTI chairman's close circle, including Senator Faisal Javed, former Sindh governor Imran Ismail, Ahmad Chattha and Imran Yousaf, were injured.
Read Govt decides to take legal action against Imran Khan
The PTI leadership is still consulting with its legal team over the registration of the FIR.
However, a family member of the deposed premier has penned a request to SHO Wazirabad City for registration of the FIR.
Previously, police sources had said the decision had become difficult about where and who would register the case.
They had added that the police had not received the request for nominating the names of top officials in the high-profile case.
According to the sources, the area's SHO repeatedly tried to contact the Gujrat district police officer in connection with the case but received no response.
There had also been speculation that the case will be filed on behalf of the state with the Counter-Terrorism Department (CTD).
'Assassination plot'
PTI leader and former federal minister Asad Umar on Thursday had said Imran Khan had named three suspects, who he believed were behind the gun attack on the long march while it was in Punjab's Wazirabad.
Umar issued a video statement, accompanied by a fellow party member and provincial minister Aslam Iqbal, wherein he disclosed that both of them had a conversation with Imran after the attack and the PTI chief revealed that he already had information about it.
Read More Assassination attempt on Imran Khan
These statements were later verified by Imran himself as he shared a video message with the nation the following day (Friday).
Breaking his silence on the matter, the PTI chairman had alleged that three people – Prime Minister Shehbaz Sharif, Interior Minister Rana Sanaullah, and a senior military officer, were behind the botched assassination attempt on his life.
He had asked his party workers and supporters to continue protesting against the assassination attempt until three "accused" resigned. He said the resignations of the three, who "controlled all agencies", was necessary for an impartial probe.
It may further be noted that the PTI chief has on multiple occasions claimed that an "assassination attempt" was being hatched against him since is ouster as prime minister earlier this year.
In what was a prelude to his earlier May 25 'Azadi March', Imran had told his supporters a plot was being orchestrated against his life, saying: "I have named all those elements involved in the conspiracy in the video. I knew about it and I got full knowledge of it a few days ago."
Explaining why he recorded the video, Imran said, "If something happens to me, I want to let Pakistanis know who was involved inside and outside the country."
He said he tried to expose in the video the conspirators who had colluded with the "looters" in the country, adding that his video would essentially expose all 'traitors' and everyone who had a role in the alleged conspiracy.


Source link