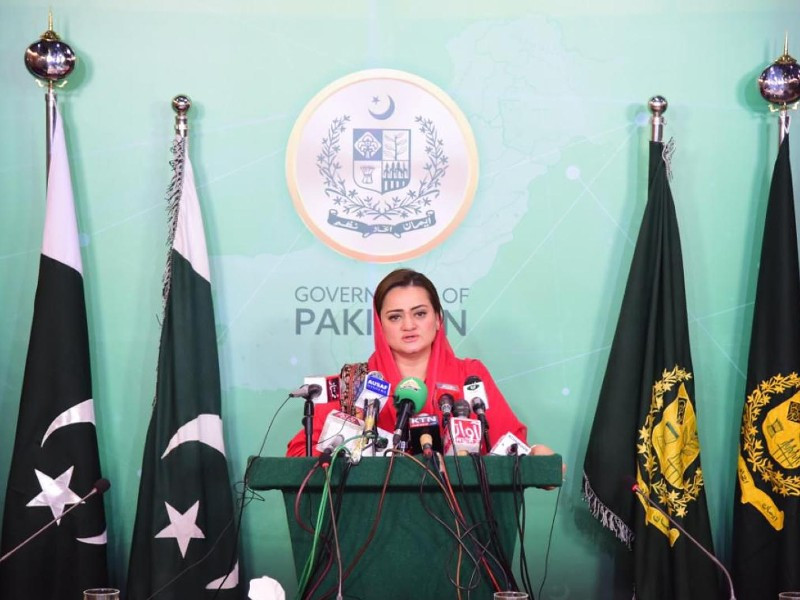 Federal Information and Broadcasting Minister Marriyum Aurangzeb on Friday said that former prime minister Imran Khan's long march has turned into a "work-from-home" event.
"I am not making fun but people have understood the purpose of Imran Khan's illness and are convinced that he has not been shot but is sad that his long march has not been a success," she said while addressing a press conference in Islamabad.
Marriyum said that Imran Khan wants to name people in the FIR as per his wish, saying that he should provide evidence first.
The information minister said that "Imran Khan stole watch from Toshakhana and sold it without depositing money".
Read more: Will tell tomorrow when long march will reach Islamabad, says Imran
"You sold the watch to Umar Farooq through Shahzad Akbar and Farah Gogi and now when you are being accused, you're announcing that you'll approach courts in UAE and UK instead of Pakistani courts… instead of doing all this, give the receipts and end the matter," she added.
Marriyum said that Imran Khan put PML-N leadership behind bars during his tenure as prime minister. "You say you didn't have [control of] NAB. You had a video of it via which you blackmailed it," she said.
"Accountability commission in K-P is closed for the past 10 years … you also have government in Punjab… you should give justice to people. This person talks against the United States and thinks the people are fools. When no-confidence motion starts to succeed, this person says he will shut down the country."
Marriyum said that the speaker, deputy speaker and other ministers violated the Constitution on the instructions of Imran Khan, saying that on the basis of cypher, he launched a campaign against the army.
"Today, the person who used to say 'absolutely not' now says the matter [with US] is over. It is not over and you have to give answers now," she added.
She further said that the PTI government's allies had also abandoned it and voted against it in no-confidence vote.


Source link