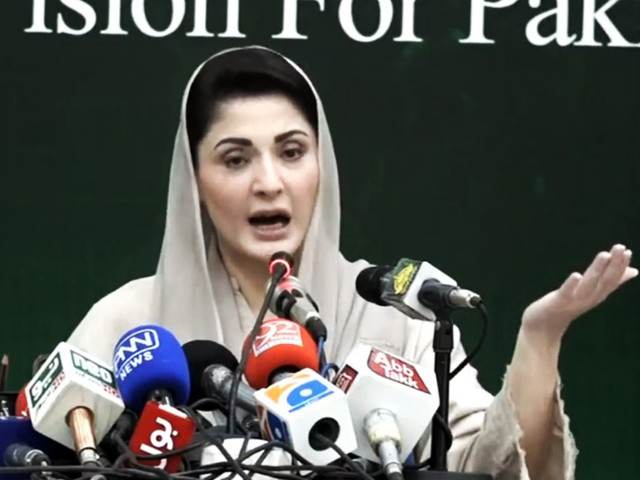 PML-N Vice-President Maryam Nawaz has said that PTI Chairman Imran Khan's six-day ultimatum to the government to announce an election is just a face-saving attempt as people have rejected the "fake revolution".
"People turned his 'Azadi March' into 'destruction march' and sent him back to Peshawar," said Maryam while addressing the media in Lahore on Thursday.
She claimed that PTI workers on the orders of party leaders set fire and spread chaos in the federal capital.
"The PTI revolution was not leaderless instead Imran and other party leaders were leading it," she said while commenting on the Supreme Court judgement.
https://www.facebook.com/pml.n.official/videos/1705527909786220/
The apex court had issued clear instructions to hold its Azadi March protest near Peshawar Mor between the H-9 and G-9 areas of Islamabad. However, Imran and his protesters did make their way towards D-Chowk, prompting the government to call in the Pakistan Army to secure the capital's Red Zone.
She also expressed regret over the top court's remarks that Imran might not have been informed about the court decision regarding the protest revenue. "I request the Supreme Court to review its decisions."
Also read: Imran gives 6-day ultimatum to govt for announcing elections
Maryam also said the people have responded to Imran's call by saying "absolutely not" and adding that his politics has been wiped out from the country.
While holding the ousted premier responsible for the death of a police constable during a raid at the PTI leader's home, Maryam said Imran should be booked for spreading anarchy.
"I am satisfied that the whole nation has rejected the 'anarchy' march. The journey of true freedom beings from home while Imran Khan's children are in London," she remarked.


Source link