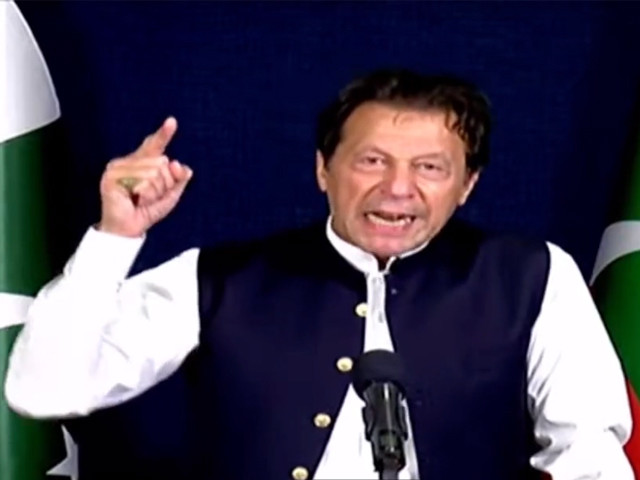 Former prime minister and PTI Chairman Imran has said that the country's economic and political situation will "deteriorate further" if early elections are not held and added that the coalition government led by the PML-N is "burying all institutions".
"I will give you a call [for long march]… if free and transparent elections are not held further chaos will spread," the ousted premier said while addressing the anti-inflation protest rallies via video link on Sunday.
The PTI has also installed screens at major protest venues across the country to show his address, in which he is expected to make major announcements regarding the party's future course of action against the incumbent government.
https://www.facebook.com/PTIOfficial/videos/719694202692296/
The former premier urged the people earlier this week to take to the streets on Sunday (today) to stage a "peaceful demonstration" against rising inflation, particularly the massive increase in the prices of petroleum products.
"I am inviting the entire nation for a peaceful protest against inflation on Sunday (June 19) at 9pm. I invite trade unions, professionals, doctors, engineers, clerks, and government workers to take to the streets," the former prime minister had said in a recorded video message on Thursday.
Earlier, the PTI protesters started to gather at protest venues in different cities across the country.
لبرٹی چوک کی طرف گامزن۔ مسلط امپورٹڈ حکومت سے ملک کو آزاد کرانا اب ہر فرد کی ذمہ داری ہے۔ pic.twitter.com/KjwPdpazah
— Hammad Azhar (@Hammad_Azhar) June 19, 2022
چیئرمین پاکستان تحریک انصاف عمران خان کی کال پر شہر شہر احتجاج شروع ۔۔۔
خیبر پختونخوا کے مختلف شہروں میں امپورٹڈ حکومت ، ظالمانہ اقدامات اور مہنگائی کے خلاف احتجاجی مظاہرے ۔
پاکستان تحریک انصاف ضلع سوات تحصیل مٹہ بازار میں احتجاجی مظاہرہ #مہنگائی_نامنظور pic.twitter.com/NtdEM3N9t6
— PTI Kohat (@PTIKohatOficial) June 19, 2022
#نکلو_خودارپاکستان_کیلئے#مہنگائی_نامنظور مُلک گیر احتجاج
کمرشل مارکیٹ راولپنڈی میں عوام کی آمد جاری pic.twitter.com/AuSPwEJrk3
— Tehreek-e-Insaf (@InsafPK) June 19, 2022
کراچی احتجاج، ہزاروں لوگ گھروں سے امپورٹڈ حکومت کے خلاف کھڑے ہیں۔ #ProtestOnSunday pic.twitter.com/itn0G8FLTz
— Hans Masroor Badvi (@hansbadvi) June 19, 2022
Imran was ousted from power in April through a vote of no-confidence and since then he has been going places, building pressure on the coalition government to announce a date for the next elections as he called the current set-up "imposed from outside".
He also accused the current government of being "incapable of handling the economy" and warned that prices would soar even higher in the days to come if the nation "kept sitting idly".
After ending his much-hyped long march abruptly last month, Imran has been asking his supporters to prepare for the next long march towards Islamabad saying he will come with better planning this time around.
'Imran's inflation protest is against his own flawed policies'
Pakistan Muslim League-Nawaz (PML-N) Vice-President Maryam Nawaz lashed out at former prime minister Imran Khan for holding protest against the incumbent government, blaming his previous regime's "flawed policies" for runaway inflation.
In a tweet, she said, 'Fitna [mischief] Khan' had given protest call against inflation – for which he himself was responsible indeed.
فتنہ خان کی جانب سے مہنگائی کے خلاف احتجاج کی کال دراصل انکے اپنے خلاف احتجاج ہے۔آج ہمیں جن پہاڑ جیسے مسائل کا سامنا ہے وہ فتنہ خان کے پیدہ کردہ ہیں۔جو بطورِ وزیر اعظم کہتا تھا کہ آلو پیاز کے ریٹ پتہ کرنے نہیں آیا اسکو اچانک سب یاد آ گیا ہے۔ اس سے بڑی منافقت کوئی نہیں۔
— Maryam Nawaz Sharif (@MaryamNSharif) June 18, 2022
She said the country is facing very serious challenges – mostly created by Imran Khan "who used to say that he did not come to power for fixing rates of potato and onions".


Source link