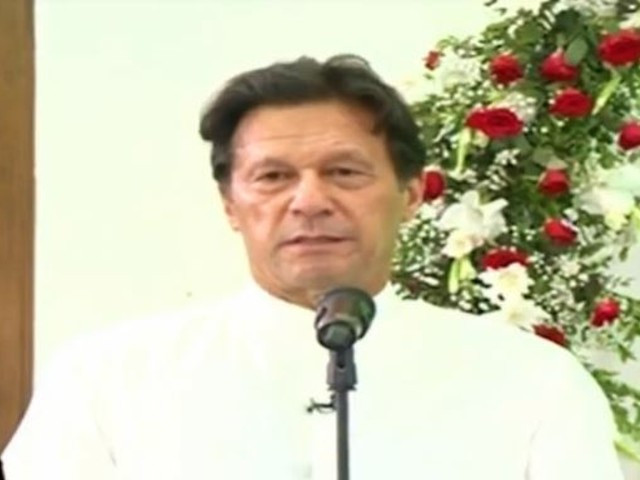 Former prime minister and Pakistan Tehreek-e-Insaf (PTI) Chairman Imran Khan has urged the nation to "break shackles of slavery" to attain real freedom from foreign conspirators.
He was speaking at a Lailatul Qadr event held in Imran Khan's Bani Gala residence in Islamabad on Thursday. Prominent personalities including renowned scholar Maulana Tariq Jamil and a large number of people from all walks of life attended the religious event.
"Pakistan is not an ordinary country. It is the only country founded in the name of Islam. It came into being after votes from Muslims of India who may or may not have lived in it. It was a big dream," he added.
Read more: Govt to try President Alvi, ex-PM Imran under Article 6 for 'violating Constitution'
He said that the nation should understand its position in this world. "I request all to pray for Pakistan so we can fulfil the dreams of our founders."
مولانا طارق جمیل بنی گالہ پہنچ گئے- اب سے کچھ دیر بعد شبِ دعا کی تقریب ہوگی جس میں ملک کی سلامتی کے لئے خصوصی دعا کی جائے گی#MarchAgainstImportedGovt#امپورٹڈ_حکومت_نامنظور pic.twitter.com/Vy1KynSY5Q
— PTI (@PTIofficial) April 28, 2022
The former prime minister said that Muslims ruled the world for many centuries and their basis was laid in Madina. "I ask the nation to pray that the puppets imposed on us after a foreign conspiracy [are removed]… we all must pray that we're able to break the shackles of slavery."
No country, Imran said, can become a big nation if it is mentally a slave of others. "All these things are stopping us from achieving our full potential. I ask everyone to pray we may get on track on why we were founded," he added.
Speaking on the occasion, Maulana Tariq Jamil said that he has been doing tableegh for the past 50 years but has always stayed away from politics but Imran Khan asked him to conduct prayers for the country so he came to the event.
"Imran Khan did not ask me to come for political reasons, he had asked me to come and pray for the country," he added.
چیئرمین عمران خان پاکستان کی حقیقی آزادی کی تحریک کی کامیابی کے لیے شب دعا میں شریک۔ مولانا طارق جمیل نے خصوصی دعا کرائی۔ #MarchAgainstImportedGovt#امپورٹڈ_حکومت_نامنظور pic.twitter.com/PcWnDJLYTq
— PTI (@PTIofficial) April 28, 2022
The renowned religious scholar said in a country where deceiving, lying and oppression become common practices, it gets embarrassed everywhere whether it is a Muslim or non-Muslim nation.
He said that a nation where honesty, trust and justice prevail, it will succeed in this world even if it is a non-Muslim society and if it is a Muslim nation, it will succeed both in this world and the hereafter.
بنی گالہ : چیئرمین تحریک انصاف عمران خان کی مولانا طارق جمیل کے ہمراہ شب دعا میں شرکت۔ #MarchAgainstImportedGovt#امپورٹڈ_حکومت_نامنظور pic.twitter.com/81QGmCX6sw
— PTI (@PTIofficial) April 28, 2022
"Recently, a female anchorperson asked me why Imran Khan could not succeed in making Pakistan Riyasat-e-Madina… I told her that Riyasat-e-Madina is not the name of a building … we as a society need to build it… he only gave a concept and we needed to adopt it.
Also read: Experts say delaying no-trust vote may invoke Article 6
"Those who were drinking alcohol should have stopped, those doing adultery should have stopped, those who were lying and committing dishonesty should have stopped… we as a society needed to adopt Riyasat-e-Madina."
"لَآ اِلٰہَ اِلَّا اللہُ کا فلسفہ جان کر ہی ہم اوپر جا سکتے ہیں، آزادی کیلئے سب کو غلامی کی زنجیریں توڑنا ہوں گی۔" عمران خان #MarchAgainstImportedGovt pic.twitter.com/P7Kn8ZJC9W
— PTI Scientist (@PTI_Scientist) April 28, 2022
The noted scholar also said that Imran Khan is the first person in this country "who gave us this concept". "He wanted to take us to Madina… we cannot succeed without following the teaching of our beloved Prophet Muhammad (PBUH)," he added.
He further said that even if Pakistan's entire cabinet and leaders become righteous but the nation keeps indulging in sins like adultery, corruption, disobedience to parents, lying etc… we can never succeed.
Later, prayers were conducted by Maulana Jamil in which a large number of people participated and sought forgiveness from the Almighty Allah.
https://www.facebook.com/ImranKhanOfficial/videos/504914218032039/