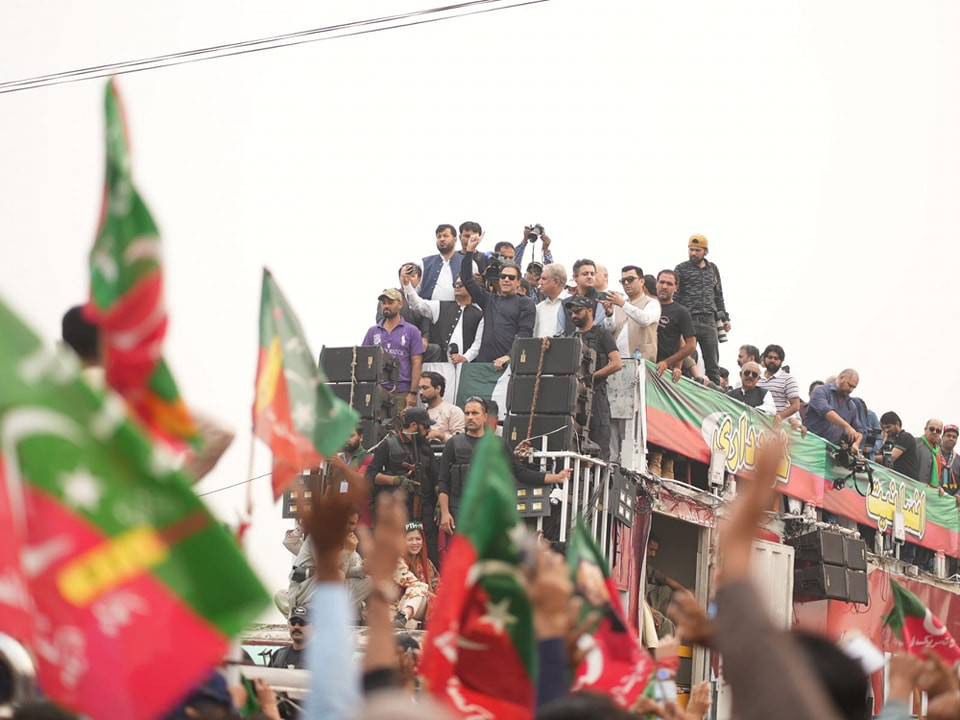 Pakistan Tehreek-e-Insaf (PTI) Chairperson Imran Khan will address the participants of the long march in Gujrat via video-link on Friday.
PTI Senator Faisal Javed Khan made the announcement through his official Twitter handle, adding that a large number of people were eager to welcome their 'kaptaan' (captain).
"The solution to all of the country's problems lies in the decision-making power of the people," he said.
PTI Vice Chairman Shah Mehmood Qureshi stated that screens would be put up in Gujrat for Imran to address the people and party workers.
He detailed that the march would move towards Gujrat after Zuhr prayers, and that the procession would pause at Rahmat Elahi Chowk and then finally reach the GTS Chowk where Imran Khan will address the crowds.
Vice Chairman @SMQureshiPTI address media before the start of the day for Haqeeqi Azadi March. #آرہا_ہے_پاکستان pic.twitter.com/ZMCpjqKFs5
— PTI (@PTIofficial) November 11, 2022
Addressing a presser prior to the march, Qureshi stated that the first information report (FIR) lodged against the Wazirabad shooting had "no value" because the three high-profile leaders inculpated by Imran were not named in the FIR. He said that the plaintiff should have been prioritised but alleged that the police seemed helpless. The PTI leader remarked that the incident showed "some people are above the law".
He said that adherence to the law was vital for Pakistan's progress.
Read Divide and conquer? PTI long march splits in two
The other half of the PTI march, led by party Secretary-General Asad Umar, entered the boundaries of the Gojra tehsil and depart for Toba Tek Singh after stopping at various points.
The convoy is also joined by Osama Hamza, Asad Zaman Cheema and Chaudhry Ahsan.
مرکزی سیکریٹری جنرل پاکستان تحریک انصاف اسد عمر کا قافلہ اسامہ حمزہ، اسد زمان چیمہ اور چوہدری احسن احسان کی قیادت میں تحصیل گوجرہ کی حدود میں داخل ہو گیا۔ مختلف مقامات سے ہوتے ٹوبہ ٹیک سنگھ روانہ ہو گا۔ #آرہا_ہے_پاکستان pic.twitter.com/VFOcpbnem4
— PTI (@PTIofficial) November 11, 2022
Yesterday, Imran told supporters via video-link they should keep up 'Azadi March', a week after he suffered wounds in a gun attack, and he dismissed a police report that a lone shooter tried to kill him.
The former prime minister was wounded last Thursday in the shooting at a rally in Wazirabad, part of a rolling march that he has led to press for a general election since he was ousted in a parliament vote in April.
Imran addressed a few hundred workers who relaunched the march in Wazirabad. "Our march wouldn't stop," Imran said, adding the protest will instead gather strength as it closes in on the federal capital.
The PTI chairman has been leading public rallies to demand snap polls since his ouster by a joint opposition. He said nothing could deter him from going ahead as long as the snap polls were not called, adding that he would join the protest march in Rawalpindi in some days. "I will not back off as long as I'm alive," he said.


Source link